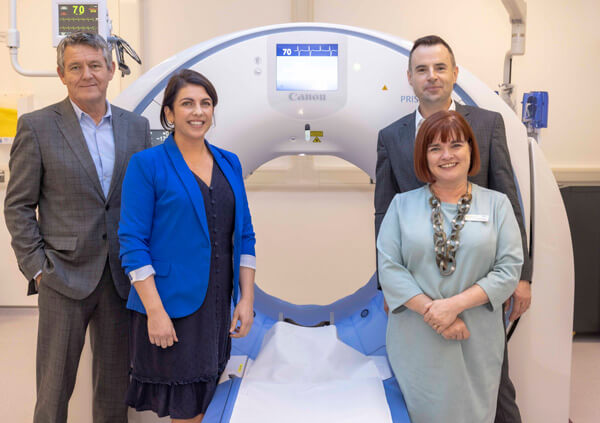 Tallaght University Hospital Emergency Department has acquired a new Canon Aquilion ONE PRISM Edition CT Scanner with Artificial Intelligence (AI) Assisted Decision Making, which it says will significantly enhance the quality of care provided in the ED in TUH.
"The state-of-the-art technology, supported by a €2m investment by TUHF, will change the patient experience, and improve outcomes for those in need of critical medical attention, particularly stroke patients," said the hospital.
"The Canon Aquilion Prime SP 160 CT Scanner is at the forefront of imaging technology, delivering high-quality imaging while minimising patient exposure to ionising radiation. With its extensive range of scanning protocols and built-in software for contrast visualisation, this scanner provides a higher quality image which helps with diagnosing a patient and reduces the risk of contrast reactions.
"When combined with the revolutionary Brainomix AI software and a fully equipped simulation laboratory, this CT scanner will offer patients in the ED access to the highest standard of emergency medical care available. The Brainomix AI software, well known for its ability to identify stroke-associated brain damage swiftly and accurately, will empower clinicians to make rapid, reliable decisions critical to the patients' clinical outcomes."
Kelly Crowley, Head of Development for TUHF, expressed gratitude to the donors who facilitated the purchase of this technology, saying "Thanks to our generous donors and the support of our partner Bartra Healthcare, Tallaght University Hospital Foundation is proud to have delivered this transformational technology which will go a long way in improving the quality of care for patients in TUH. Their contributions have enabled us to provide timely access for patients to hospital services that promote the highest outcome standards, delivered by a caring motivated workforce."
Douglas Collins, CEO of Tallaght University Hospital Foundation said, "TUHF's acquisition of the state-of-the-art CT Scanner, with its AI-enhanced capabilities, underscores our Foundation's commitment to embracing cutting-edge technology that directly enhances patient care and health outcomes."
Declan Carlyle, CEO Bartra Healthcare said, "Caring for and about people is at the heart of everything that we do in Bartra Healthcare. We are delighted to partner with Tallaght University Hospital Foundation in the delivery of this new CT scanner, transformational technology which will positively impact the patients of TUH, and their families."
Lucy Nugent, CEO of Tallaght University Hospital, thanked the Foundation and its donors. She went on to emphasises the value this CT scanner would bring to the Hospital and its patients, saying, "The ability to access CT scans seamlessly in the ED will positively impact patient outcomes by enabling faster clinical decision-making in cases where a CT scan is required as part of the diagnostic workup. This is particularly essential for trauma patients and patients presenting to the ED with suspected stroke."
The Covid-19 pandemic has resulted in a significant backlog of patients requiring outpatient CT scans, putting even more pressure on the Radiology Department and impacting access to CT for ED patients, whose need is typically more critical. The new CT scanner will free up capacity in the Radiology Department for general, scheduled outpatient services, thereby reducing the public waiting list for CT scans.