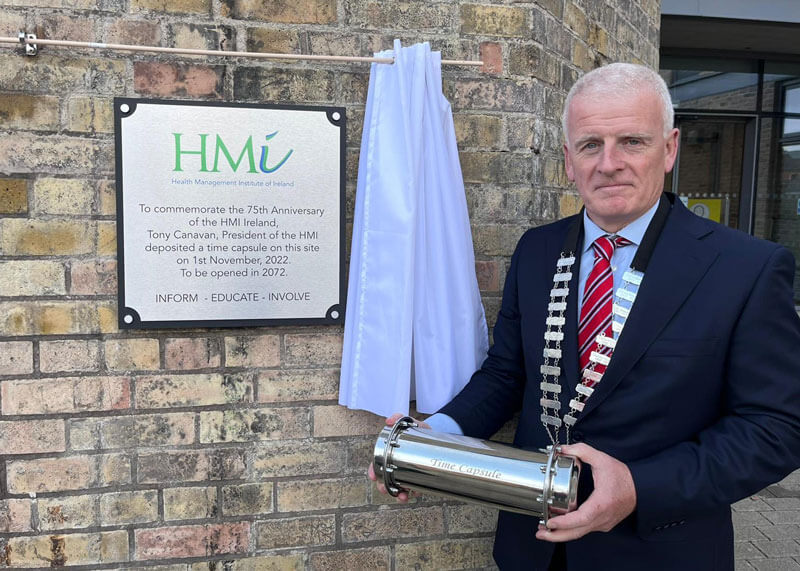 To mark the 75th Anniversary of the HMI, a time capsule was buried on the campus of HSE Grangegorman Primary Care Centre, Dublin 7, on November 1, 2022 by Tony Canavan, President of the HMI, writes Mellany McLoone.
The time capsule includes objects which were symbols of how the HMI wishes to be remembered and pass onto future generations. It also includes objects that featured very heavily in the lives of healthcare managers at this time.
The objects we collated included:
The first three items will provide a snapshot to future generations on the current work and history of the HMI and this is complemented by a personal letter from Breda Crehan-Roche.
In the past 250 years, Grangegorman has been the site of a workhouse, a hospital and a prison, and now is integrated into Dublin city as a health and education campus. The buildings of Grangegorman stand as architectural monuments to that past and its complex histories. The Grangegorman Histories diverse programme of events, publications and learning opportunities will help future generations to uncover the history of the site and surrounding communities.
Given the pressures on all aspects of health and social care services during 2020 and 2021 due to Covid-19 it is only fitting we include some of the symbols from this time.
We hope it provides snapshot of the experience of the HMI as an organisation and the people it supports.