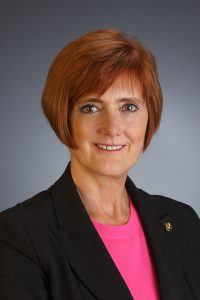 When the World Health Organization declared COVID-19 a pandemic in March 2020, few could have predicted everything healthcare leaders and front-line teams around the world would be asked to bear. Strong leadership was never more evident, yet we became equally aware of our fault lines, writes Deborah Bowen.
Fortifying those areas may require us to examine carefully how we lead, govern and organize the work we do to ensure that we give our best to our patients and communities, even in the most difficult of circumstances. Above all, we must remain vigilant in leading well, investing in our most precious asset—the people who make the system work and the resources they need. In my work at ACHE and IHF, certain imperatives in leadership and governance seem most prominent.
Imperatives for Leading
As our field evolves and new challenges arise, so must our approaches as leaders. That to me means being intentional about putting patients first, prioritizing our workforce and partnering across all areas of healthcare.
Have a patient-first mentality: We emerge from the pandemic, and the enormous losses we have experienced during it, with opportunities to hardwire our organizations in ways that allow all patients to access the care they need and deserve. Learning to close gaps in disparities and shore up systems that may have missed those at high-risk will require analysis, but they also call for a patient-first mentality that keeps disparate communities and populations at the forefront of our organizations' systems, plans and processes. Investing in technology is the key to that. Overall, thoughtful planning and investing about how we serve all patients will help us take significant steps toward improving health outcomes more effectively and efficiently.
Prioritize the workforce: Stress and burnout have led to waves of resignations across our field, and the WHO estimates a projected shortfall of 18 million healthcare workers by 2030. To develop resiliency in our workers, we must make their health and well-being a priority. Allowing people time and space to exhale, finding ways to help them bring joy into their work and establishing zero-tolerance policies aimed at workplace safety can foster resilient cultures. Meanwhile, benefits such as flexible scheduling and 24/7 childcare give healthcare staff more capacity to balance work with their responsibilities at home. Many leaders have found that rounding or listening tours can help them learn how to better support their teams by learning what is working and what is not.
Extending new development opportunities also can help. Many clinicians, including nurses newer to their roles, are looking to advance their careers, and formal leadership assignments, higher academic education and mentoring can all be beneficial. Expanding access to these avenues also provides organizations with more diversified talent to advance clinical and administrative goals. And it can go a long way toward making our workforce better reflect the communities we serve. Investing in people and recruiting for diversity, leadership and governance are necessities that will continue to need our focus in the coming years.
Embrace partnering and collaboration: Partnerships are critical to sustaining efforts at expanding health equity, and that means working together across disciplines, industries, settings and professions. With shortages upon us, more focus is being paid to how we reengineer care using the full aptitude of our multidisciplinary teams to overall health. But great partnerships also extend deep into the community as well as leveraging the capability of others, including academia, technology game-changers and corporate partners, to name a few. Clearly healthcare is a team sport and working across our boundaries can yield powerful results.
Imperatives in governance
Governance in healthcare has never been more important or complex. While balance sheets still need attention as organizations emerge to more solid financial health, investing in the future and focusing on our environmental, social and governance responsibilities may also hold the key to creating sustainability for organizations.
Invest in the future: Innovation in healthcare has accelerated the past few years, with advances in virtual care concepts such as patient portals, telehealth infrastructure and remote sensors, and alternative models like hospital-at-home, modernizing how care is delivered. Supporting this evolution requires investment and resources, although cost and scale can be barriers. An intriguing approach is the health innovation hub at University College Cork, which brings together clinicians, academics and others from across Ireland to focus on medical and technological advancements that can improve care. Investments like this can help us balance the benefits of innovation with cost realities and improve the likelihood of success.
Our workforce also requires investment to help address looming clinical shortages and fund relevant priorities. That means setting up our organizations in ways that support those on the front lines. Offering increased employee behavioral health services, hiring chief wellness officers and creating well-being champions are a few initiatives organizations are trying. Some are partnering with educational institutions and community organizations to increase the recruitment pool, cultivate a diverse mix of new talent and attract the next generation of medical and tech professionals. Regardless of approach, investing in long-term solutions is necessary to create a foundation for the future.
Lead on social issues: Companies and leaders today have a growing responsibility to be visible on environmental, social and governance issues, and healthcare governance structures are no different. According to the 2022 Edelman Trust Barometer, an annual global trust and credibility survey, societal leadership is now a core function of business. CEOs are expected to shape conversation and policy on jobs and the economy (76%), wage inequity (73%), technology and automation (74%) and global warming and climate change (68%). What leaders do and say about these topics, both as organizations and as individuals, matters to their employees, patients and the communities they serve.
For example, are we upgrading to sustainable energy sources and minimizing our carbon footprint where possible? Are we working with educational institutions and community organizations to increase our recruitment pool and cultivate a diverse mix of future talent? Are we speaking out publicly on social topics that matter to all of us? Being transparent and authentic about our values and intent can help foster trust and credibility with our patients, our communities and other stakeholders.
These are just a few focus areas that can help us propel our field forward in a post-pandemic landscape. As we evolve ourselves, our teams and our organizations, we still will face huge challenges in the years ahead that may come without warning, much like those that have emerged during the pandemic. However, if we can be thoughtful and intentional about both how we lead and the governance of our organizations, we can be better prepared to withstand whatever comes at us next.
Deborah Bowen, FACHE, CAE, President and Chief Executive Officer of the American College of Healthcare Executives.