In April 2020, the Royal College of Physicians of Ireland became the first postgraduate medical college in Ireland & the UK to deliver computer-based exams through remote invigilation and since then almost 3,500 doctors had taken RCPI exams in this way, the President of the College, Prof. Mary Horgan, told the Conference.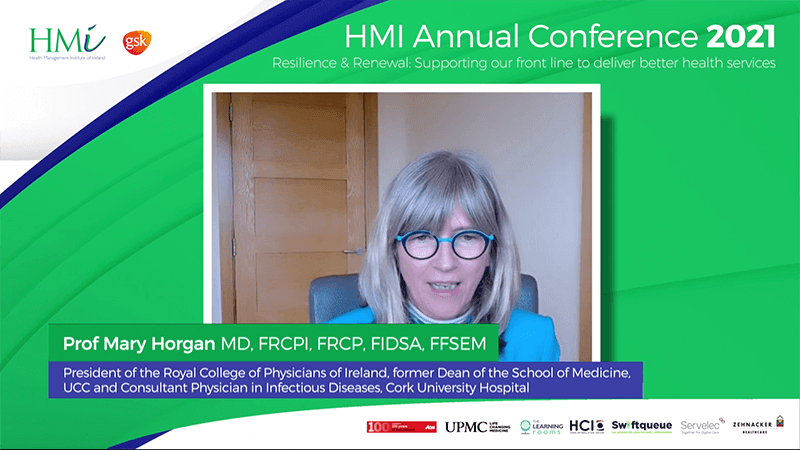 She said this was really important to ensure the quality of doctors throughout the system and was something not all universities had managed to do a year later. Doctors could take the exams in their own home. It saved time and expense in travelling to an examination centre, there were no visa requirements, it removed some of the stress of doing an examination and delivered a better experience. It was also in line with the RCPI green agenda.
Candidates from Ireland, the UK, Saudi Arabia, the United Arab Emirates, Iraq, Kuwait, Oman, Malaysia, India, Australia, Brazil, the United States, Sudan, Pakistan,  New Zealand and Malta had taken these exams remotely.
Prof. Horgan was speaking on "Leadership on the Frontline: Crisis Bringing Creativity."
She said the last year was one none of us would ever forget. The first community-acquired case of COVID-19  had been confirmed in Ireland on February 29 and since then it had been a huge challenge, not only for the health service, both  COVID and particularly non-COVID, but also for society and the economy and all the knock-on effects it would have not just now, but for years to come, particularly for our younger generation.
Prof. Horgan said the key themes for success on the frontline were, advocacy and leadership, education, technology and resilience.
The key themes for success on the frontline were, advocacy and leadership, education, technology and resilience.
"It all happened very quickly and it was important to embrace change and be ahead of the curve rather than waiting for the perfect science to tell us what we should and should not do.   "Being on the frontline was very important for me because I am a doctor first.  But I am also a leader and leaders need to roll up their sleeves, get out on the frontline and really support staff and initiatives.  It is also important that I am a voice for patients and for healthcare workers on the frontline and have been able to speak on their behalf.
"I had 30 years experience in infectious diseases, but there was much we didn't know when the pandemic struck. We didn't know at the time how infectious it was or if we could get it from surfaces and it was very important to protect ourselves, as healthcare workers. I was also struck by the fear people had. There was  so much we didn't know at the time about treatment and  if we were afraid you can only appreciate what the patients' fear was."
Prof. Horgan said that listening to science and being agile in decision- making was really important.  "What helped was that all red tape was stripped away.   We got to do things quickly, we had an agile rapid response.  In CUH, we had huge support from our CEO, Gerard O'Callaghan and our Director of Nursing, Helen Cahalane. We had to have the confidence to change and improve.  In the midst of a crisis, you have to embrace innovation and move on very quickly.  That's what gets our patients better and out of the hospital. All the team worked really hard, particularly at keeping patients out of ICU.  It was a huge team effort which got patients and staff through a really difficult time."
Prof. Horgan said the message of hope came in December, with the arrival of the vaccines. It was a feat of science that we had got vaccines within a year of the arrival of a totally new infection.
Listening to the science and being agile in decision- making were really important.
She said they had to get out information to members in the RCPI and others as quickly as possible and disseminate essential clinical updates on COVIF 19.  "There was a real hunger to get the latest information on how to care for our patients".
They had used Webinars where national and international people shared their frontline experience – communicating the latest developments on COVID 19 in the areas of public health medicine, testing, vaccination, research and innovation. The Irish diaspora had been very helpful and RCPI adapted its technology.
"Technology had enabled us to continue high standards of medical training by delivering medical training courses, study days, assessments and examinations.   We have also put in place accessibility by archiving online lectures including hundreds of hours of expert presentations, analysis and learning.   We have had at least 50,000 views of these.
" We are reaching greater numbers of doctors than ever before and continuing to maintain high standards in medical training."
Prof. Horgan said they had a big focus on resilience and Physician Health & well-being. It had been really tough on the frontline in January and they felt it very important to support the physical health and well being of their members and trainees.  "We have 1,500 trainees and many many more consultants. I believe it is important that we look out for one another and watch each others' backs.  I appointed Prof Gaye Cunnane from St. James's as Director of the  RCPI Health & Wellbeing and working with RCPI  colleagues, she has been a fantastic lead."
She said half of the doctors working in hospitals admitted to neglecting their own health.
"We can get through this by staying well-informed, acting on expert recommendations and most importantly looking out for one another, looking out for flags where people who may be struggling to get through what it a very difficult time.
"Our Physician Wellbeing Programme gathers resources to help support doctors 'mental health and wellbeing.   We have had some support from the HSE on our physician well-being programme and have some resources, including online resources to support doctors' physical and mental wellbeing.  These on-line line resources include videos – doctors' stories and words of advice, action plans to restore wellbeing,  advice from psychologists.  advice and support for mental health and tips for resilience.
She said that in the short term, we should enjoy the outdoors,  be aware, be cautious, and not be fearful  "It's spring it's not raining in Cork at the moment.  We need to be cautious, but not fearful all the time,  fear is not good for one's health."
Moderator, Sharon McMorrow said that there were a large number of questions for Prof. Horgan but time constraints meant there was only time for one – Would we see other pandemics, would we be better equipped and prepared if we got a new pandemics and if so why.
Prof. Horgan said she thought there would be more pandemics.  "I think we should take time to step back and see what we have done really well and what we have learned and be able to prepare for the future. Some of the importance of future planning is learning from mistakes in the past."
Prof. Mary Horgan
Prof. Mary Horgan, MD, FRCPI, FRCP, FIDSA, FFSEM is President of the Royal College of Physicians of Ireland, former Dean of the School of Medicine, UCC and Consultant Physician in Infectious Diseases, Cork University Hospital. . She graduated from University College Dublin in 1986.
Professor Horgan undertook a Fellowship in Infectious Diseases in Washington University Medical School, St Louis, USA and was appointed Assistant Professor of Medicine in 1995. She returned to Ireland in 1997 to take up the position of Consultant in Infectious Diseases.
Professor Horgan was appointed as Dean of the Medical School in UCC in 2013 and held the position for a 4-year term.
Professor Horgan has been a Ministerial appointment of a number of health service-related National Boards including HPRA and IBTS. She was appointed Chair of the National Research Ethics Committee on COVID-19, is a member of the COVID-19 Rapid Testing Group reporting to the Minister for Health and a member of the group reporting on the strategy for Whole Genomic Sequencing of Variants. She is on the GAA's Expert Advisory Committee on COVID19 and worked with World Rugby on Return to Play strategy. She has worked on the frontline at Cork University Hospital during each wave of the pandemic.
She was awarded the UCD Alumni award for health in 2019.
Professor Horgan was elected as President of the Royal College of Physicians of Ireland, the first women to hold this position since the College's foundation in 1654.