Although we were all aware we were unlikely to see a clear cut end of the pandemic, it was very important to look at leadership after the pandemic, particularly in view of the feeling of burnout and lack of hope among many health care providers right now, Dr. Jaason Geerts, Director, Research and Leadership Development, Canadian College of Health Leaders and LEADS Canada and Honorary Visiting Fellow, The Business School, University of London (UK), told the Conference.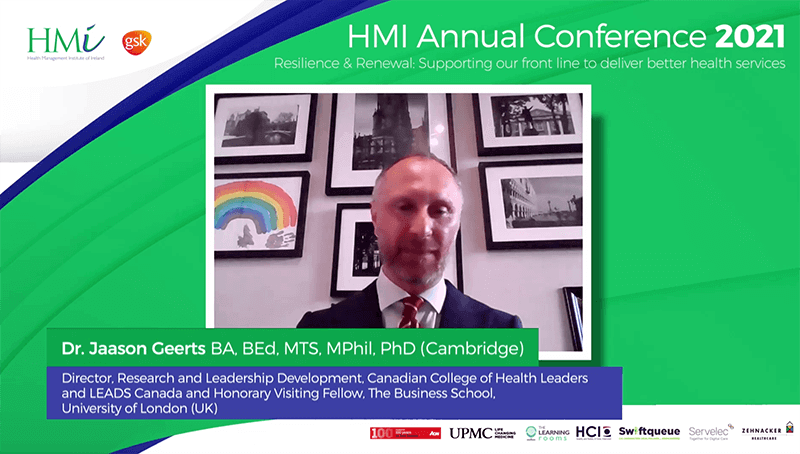 "After all we have been through together, the successes and failures, we should not get the resolution wrong.  We must believe things will be better and we must be involved in creating a better world.
"At present, the pandemic is like running a marathon, when you don't know when you should speed up or slow down or when it will end, but we must have expectations that things will be better and see what we can do now to set us up for success".
"People say their biggest challenge is where to put the focus now –  the past, the present or the future".
Dr. Geerts has been working with two groups of international experts, looking at leadership during and post-pandemic and he based his presentation on their findings of leadership in crisis and leadership post-pandemic.
 He said the pandemic had four stages – the emergency, the recovery, which we were now in  (and which was a unique phenomenon of the COVID pandemic), the restoration and the resolution.
"From the emergency, we have learned leaders can't do everything, they need to hunker down and focus on what is the most important thing, they need to trust front line staff to improvise and say that as a senior leader they will have my backing, that is a key point of the emergency leaders".
"We also learned normal excuses, for not adopting new initiatives, are out.   These include excuses such as  –  'We are too busy,' 'It wouldn't work here,' 'This is the way we have always done it this way.' These are not going to work right now In the emergency, people needed to do something that was going to work in the next few minutes.  I have never in my career met with more humility among leaders than in the last year and a half.   This experience has been unprecedented in a way that nobody had had training for it."
Dr. Geerts said a priority now was to celebrate the people who had worked so hard – recovery needed to happen,  people were exhausted and stressed and we needed to look after them."
We could see what worked well in the emergency stage, who were top performers and going forward we could utilise that.
During the recovery stage,  care, services and surgeries had been paused.  We needed to see how we could action and resource that?
"How do you motivate people, when in Canada right now we are scaling back on elective surgeries and diagnostics when there are women walking around Canada with breast cancer who are not being caught in our system and the guilt and the ramifications of this are very significant.  How do you focus on scaling back, advancing forward preparing for the future?  It's really tough."
Apart from celebrating the response of leaders and organisations to the pandemic, the priorities now were to learn from the pandemic, improve and build adaptive capacity, address gaps and inequities in our system and enhance integrated care.
"We have to utilise the learning from the pandemic.   We have to do our work in a completely different way.  We can't go back.  Now is the time for systemic change. There are opportunities to re-prioritise.  It is not about the hospital anymore, we are all in this together and we can no longer work in silos and disconnected organisations, integration is essential, how can we optimise the way we work, how can we care for patients virtually in an optimal manner".
"The pandemic has also highlighted gaps and inequities in our system, how do we address these and enhance integrated care and optimise work and care".
 "Everyone is open to best evidence-based initiatives and there is an openness now to new ideas that would not have been there without the pandemic".
 Looking at opportunities for adaptability and rapid innovation,  before the pandemic, the CHEO Children's Hospital in Ottawa had a three years plan for introducing virtual care. Then, the pandemic struck and over one weekend, 70 per cent of their work became virtual. What had been planned over a three-year timetable was done in one weekend. Was it perfect?  Probably not,  but it showed remarkable ability to come together and innovate and collaborate in a way we would never have thought possible before the pandemic".
Dr. Jaason Geerts
Dr Jaason Geerts, BA, BEd, MTS, MPhil, PhD (Cambridge),  is the Director of Research and Leadership Development at the Canadian College of Health Leaders (CCHL) and LEADS Canada. He is an Honorary Visiting Fellow at The Business School, the University of London in the UK, and is an active researcher. His recent work on leadership and leadership development have been published in peer-reviewed journals. Dr Geerts has applied his research at the Yale School of Medicine, the University of Zurich Business School, the National Health Service (NHS) in the UK, and the UK Defence Academy, in addition to his work at the College. His current research on leadership during the pandemic has been featured in the Globe and Mail, Canada's national newspaper, Hospital News, local radio, and CBC national news, as well as globally through the International Hospital Federation (IHF) and the British Medical Journal (BMJ Leader). He is currently a program director at the Telfer School of Management (Ottawa) and the Schulich School of Business (York University, Toronto) in Executive Education and a faculty member for the Canadian Foundation for Healthcare Improvement (CFHI).