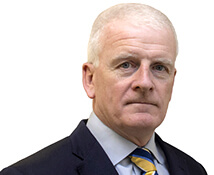 October 25. If it isn't already in your diary, mark it in!
The Annual HMI conference takes place on October 25, this year in the RDS and we have just completed our line-up of speakers. The conference will be an opportunity to hear a range of national and international speakers address the theme of integration; what it is, how it can be achieved and how it is critical to the successful implementation of Sláintecare. It will also be an opportunity to contribute to, and to shape the debate and discussion around the conference's central theme.
In keeping with our mission to develop standards of management competence and practice in the Irish Health Services, we have developed the Annual Conference to be a truly excellent networking event. Last year over 270 delegates attended the HMI conference from across the country, from public and private providers, from HSE and voluntary services and from community and hospital services. Our aim this year is to increase the numbers of delegates in attendance, from all elements of the health services. The conference will be an opportunity to meet old friends and to develop new networks of colleagues.
As President of the HMI, I am looking forward to the conference and hope to see you there.