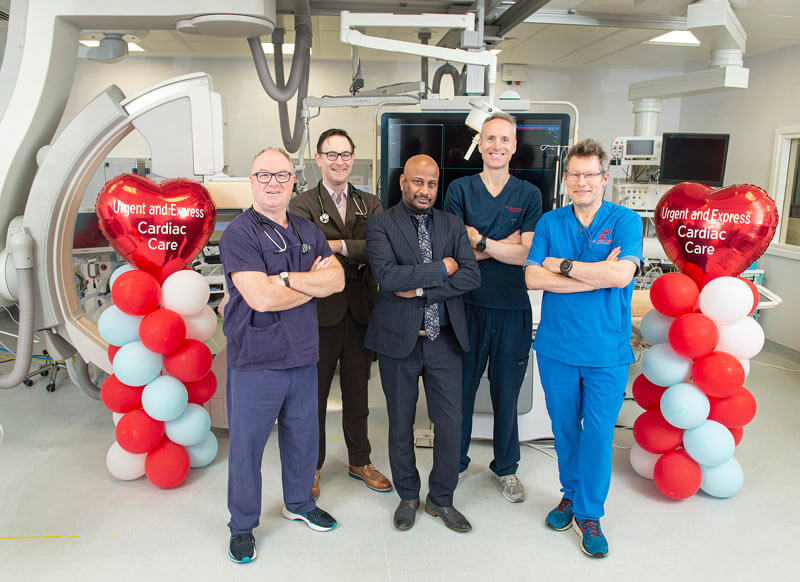 The Cardiology Department of the Bon Secours Hospital, Cork has launched a new Urgent & Express Cardiac Care Clinic.
This Urgent and Express Cardiac Care Clinic has provided a mechanism for GPs to fast track patients who require urgent assessment and treatment.
It is a Consultant Delivered Service, and urgent referrals will be seen on the same day with access to a full range of cardiovascular diagnostic tests and treatments.
A key component of this Urgent & Express Cardiac Care Clinic is new Cardiology Helpline for GPs 1800 203444 which is staffed by experienced Cardiac Nurse Specialist who will be available to triage referred patient presentations and discuss optimal care pathways with GPs.
GPs also have the option of referring patients via Healthlink, these referrals will be triaged on the same day by Cardiology Nurse Specialist and appropriate appointment given.
The Heart Team consists of Consultant Cardiologists, Dr Keith Morrice, Dr Cróchán O'Sullivan, Dr Conor O'Shea, Dr Heiko Kindler, and Prof Carl Vaughan, Cardiothoracic Surgeon, Mr Kishore Doddakula, Emergency Medicine Consultant Prof Ronan O'Sullivan and Clinical Nurse Specialists Ms Emer Keane and Ms Anne McCarthy backed up by a large experienced team of cardiac physiologists.