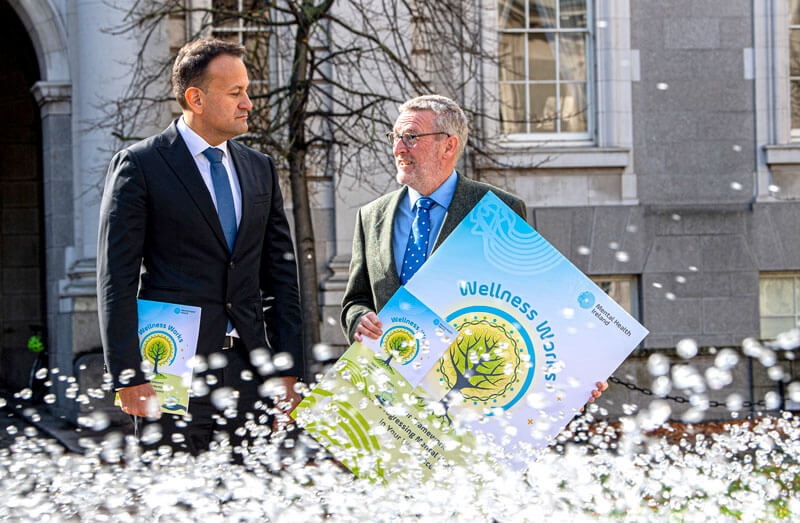 Mental Health Ireland has coproduced a new Workplace Framework to help guide and equip employers and staff with the tools to understand and manage mental health challenges in the workplace.
A workplace survey with 900 respondents released by Mental Health Ireland shows a significant need for mental health support at work with both employees and employers agreeing that their job can be a direct challenge to their mental health.
A high number of employees said that job stressors had a negative impact on their wellbeing. A third of respondents said working out of hours and almost a quarter of respondents said having little or no breaks affected their mental health, while 90% of employers had noticed an increase in mental health challenges in the workplace since the pandemic.
According to the survey, the vast majority of employers and managers reported feeling confident about having conversations about mental health, and 86% of employers had noticed an increase in openness to talk of mental health within the workplace.
However, while 39% of staff felt their workplace had strong mental health policies in place, 33% of respondents felt their company did not adhere to the policies or put them into practice.
Mental Health Ireland was joined by Tánaiste Leo Varadkar to announce the new framework, 'Wellness Works: Your Framework for Progressing Mental Health in Your Workplace' to mark World Mental Health Day today in October.
Training can be provided by Mental Health Ireland in 2023 to encourage managers, employees and business leaders learn how to create a positive working environment and support employees who are facing mental health challenges.
It brings together the latest evidence and best practice in workplace mental health, and includes updates on the current status of mental health in the workplace, legal considerations, mental health as a health and safety consideration, workplace mental health policies, identifying risks and remedies.
Tánaiste Leo Varadkar said, "This is a very welcome and useful set of guidelines for employers and their staff. The workplace has seen enormous changes in the last few years as a result of the pandemic. Many more people now engage in hybrid or remote working, which brings welcome flexibility but can also bring its own challenges. We are all much more conscious of the importance of good mental health in all parts of our life. This new resource will be essential reading for employers and staff alike."
Martin Rogan, CEO of Mental Health Ireland, said, "By attending to our mental health, we can avoid burnout, disengagement, absenteeism, and strained relationships in the workplace. Work plays an important role in all of our lives, supporting livelihoods, as a place where we can make a valued contribution, gain a sense of achievement as well as being a place for social connection. The past two years have changed the world of work forever and we must embrace this new reality. In a competitive labour market, at a time of full employment, employers understand that focusing on mental health in the workplace has never been more important"
Sonia Rennicks, Head of Education, Training & e-Mental Health with Mental Health Ireland said: "Over the last five years, a pattern emerged from workplace training feedback telling us that managers need more specific knowledge and tools to help them support colleagues who are experiencing mental health challenges. Taking this as a starting point and building on the latest research on the risks to mental health in the workplace, we have created a workplace framework to support leaders and managers to protect and sustain their staff's mental health at work and respond supportively when a team member experiences a mental health challenge.
"Using the framework to develop a workplace mental health policy will support management to understand the scope of their own responsibilities in relation to employee mental health. Having clear boundaries like this can increase managers' confidence, improve communications with employees who may be experiencing a mental health challenge, and ultimately protect all parties.
"The implementation of a Workplace Mental Health Policy can address some of the psychosocial risks that influence sick leave and absenteeism, which in turn will protect the organisation's productivity and return on investment. Importantly, it can also serve as a visible pathway for colleagues returning to work who may have been absent due to mental health challenges."