Tusla's first ever People Strategy (2022 – 2024) was launched at the Round Room of the Mansion House in July.
Speakers at the launch included Minister Roderic O'Gorman, TD, Pat Rabbitte, Chair of the Tusla Board, Bernard Gloster, CEO, Rosarii Mannion, National Director People and Change, Eilidh Mc Nab, Chief Officer, Clara O' Shea Collins, Social Worker, John Lonergan, former Governor of Mountjoy Prison and broadcaster, psychologist and author, Dr Maureen Gaffney.
Mr. Bernard Gloster, Chief Executive of Tusla said whatever their role, and wherever they worked – every single one of Tusla's 5,000 people, played a critical role in delivering high quality services that improved experiences for children and families in our communities.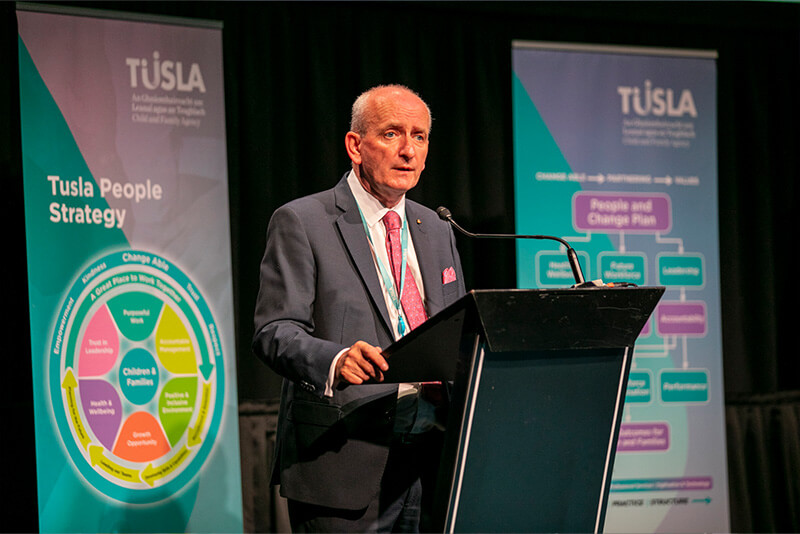 "This three-year strategy sets out Tusla's commitment to all our people – to be a great place to work, to provide purposeful work around our passion for the care and protection of children to be the very best we can be in caring and protecting children in the State, and to support each other to face whatever challenges that lie ahead."
National Director People and Change, Rosarii Mannion, said the new strategy was a living plan and statement of intent and action and focused on building a connected support structure to lead, manage and develop the contribution of Tusla staff. "It details eight strategic but tangible aims, each with clear and measurable key performance indicators, which will strengthen, build on, and consolidate the reorganisation work already underway to deliver services more locally to people across the country, and bolstered by key support services at the centre.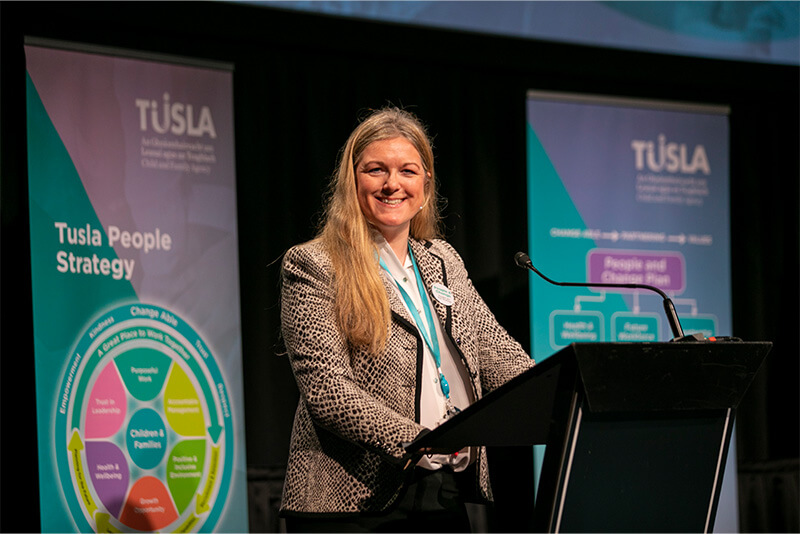 "Tusla is a people organisation and people are at the heart of everything we do. As a public service organisation with an extremely sensitive and varied brief across a wide range of services, we aim to provide an effective, safe, quality service; that not only meets the needs of children, young people, and families, but which also attracts and retains the very best staff. We also aim to develop a professionally rewarding career path through improved promotion and training opportunities.
"This three-year plan will look at innovative ways to attract graduates and others experienced in our area of work, by providing an agile work environment, conducive to career longevity, flexibility and making Tusla an employer of choice. Not only do we want to recruit people and develop their skills, but we also want to retain them in a 'change-able' organisation that is also focused on their wellbeing. In Tusla we value our workforce and will be investing over the next three years to support staff, their wellbeing and encourage retention by enhancing work– life balance and increasing opportunities for staff to grow and develop. The People Strategy can do this by improving the working experience for Tusla."
The strategy identifies eight core themes for action, which Tusla will focus on for the next three years to continue to recruit, retain and engage with colleagues right across the agency. The strategic aims of the plan are:
| | |
| --- | --- |
| Strategic Aim | Our Ambition |
| Building a Great Place to Work Together | People are proud to work here and stay with us to build their career. They feel supported and empowered to deliver great services for the children that we work with. They feel able to contribute to building a caring and compassionate culture that inspires innovation, creativity and service excellence throughout the Agency. |
| Planning for the Future | Our workforce plans are forward-focused, agile and linked to service delivery plans. All our services are appropriately and equitably staffed. Workforce planning activity delivers a sustainable and capable workforce to deliver current and future high quality and integrated services. |
| Recruiting our People | Our Recruitment Service is highly skilled, responsive and tailored to meet the needs of Tusla Service Managers and stakeholders. We promote Tusla as an employer of choice by nurturing and engaging with our yearly graduate cohort and the wider pool of candidates |
| Retaining our People | We develop innovative and collaborative ways of working that allow us to make the best use of our talented people and encourage them to stay and build their career in the Agency. We work collectively towards a common purpose, inspiring innovation, creativity and excellence throughout the Agency. |
| Developing our Skills and Capabilities | Personal and professional development for all our staff to build on their potential. Staff are equipped to confidently deliver, problem solve and innovate safer, and better child protection and welfare services. We have a strong performance and accountability culture, to enable the achievement of our strategic aims. Our people are recognised nationally for their expertise and contribution to child social care. |
| Leading our Teams | Our leaders are highly visible, capable, compassionate, confident, and enthusiastic leaders, who exemplify Tusla values. Our leaders work collaboratively towards a common purpose, creating a caring and compassionate culture and inspiring innovation, creativity, and excellence throughout the Agency. They recognise and support what team members are doing and celebrate positive outcomes. |
| Supporting our Wellbeing | Our people are safe, healthy, and well both physically and psychologically. We have a health and wellness culture that informs all our key HR processes and procedures and a systematic appreciation for the whole person and not just the Employee.. |
| Being a 'Change Able' Organisation | We create the conditions for people and culture change and a workplace environment that promotes growth, innovation and knowledge sharing enabling leaders to transform services and sustain improvements. We develop leaders' capacity to lead change in a complex system with a tolerance for ambiguity, building resilience and inspiring people to deliver our core purpose, engaging with service users and staff, developing networks and connecting with local communities. |
| | |