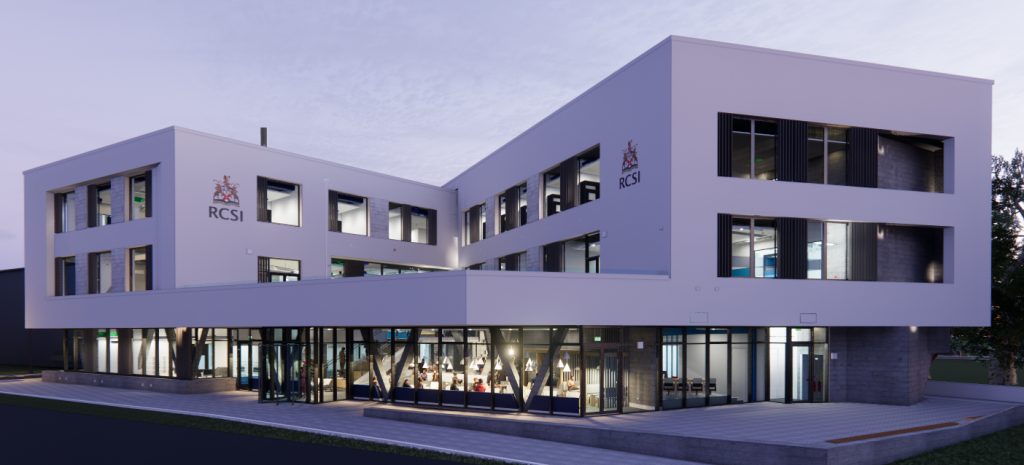 RCSI University of Medicine and Health Sciences has announced an investment of €22 million in the development of a new Education and Research Centre at Connolly Hospital in Blanchardstown, Dublin.
Due for completion in February 2024, the new centre will join the Smurfit Building, Education and Research Centre at Beaumont Hospital as RCSI's second clinical centre of academic excellence in Ireland.
The construction contract for the new facility was signed in January by RCSI University of Medicine and Health Sciences and Felix O'Hare & Co. Ltd.
The RCSI said, Connolly Hospital was an integral part of its campus and this future-focused development reflectd the university's commitment to the hospital and the broader RCSI Hospital Group. "It will greatly enhance the student experience for the Graduate Entry Medicine students based at Connolly and for other RCSI students while on clinical placement at the hospital."
The building will provide increased capacity for RCSI's translational research and will be the location for a new paediatric allergy research centre.
The development will be alongside the recently opened CHI Ambulatory Paediatric Facility and will contribute to the continued expansion of services, facilities and the education and healthcare workforce at Connolly Hospital.
Professor P. Ronan O'Connell, RCSI President, said, "The development of this new clinical centre of academic excellence represents a significant investment for RCSI that will further strengthen our academic partnership with Connolly Hospital as well as the wider RCSI Hospital Group. The opening of the new centre will be transformative for our educational programmes, will greatly enhance the RCSI student experience and will enrich the local community."
"We want to play our part in building a health service with the capacity to meet the needs of our growing and aging population and which provides a fulfilling career for healthcare professionals. This new Centre will help us to reimagine the way we are educating our students so they can respond to changes in the scope of their practice and thrive in professionally and personally rewarding careers. It will also allow us to educate new professional groups such as Physician Associates, which is a relatively new profession in Irish healthcare with the potential to greatly improve efficiency and patient experience."
The 4,100 square metre development has been designed by McCauley Daye O'Connell Architects. The three-storey building is designed with two distinct interlocking blocks for academic, faculty and administration functions with a communal atrium area linking the two, providing amenity and support space for students and staff. The building will also have a large public area which will be open to Connolly Hospital staff.
Reflecting RCSI's commitment to sustainability, the building has been designed using the Energy Efficient Design approach to meet the highest standards in energy efficiency and will be 'A' rated. Some of the key features are solar electricity production on site, green roofs, rainwater harvesting, use of heat pumps, natural ventilation and use of the most highly energy efficient building materials available.