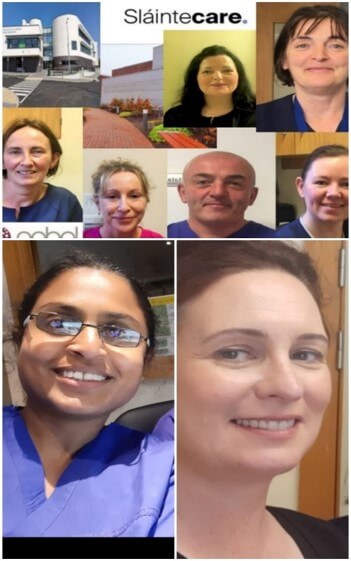 A project by University Hospital Waterford to enhance access to diagnosis and treatment for Heart Failure won first prize at the 2021 European Association of Hospital Managers (EAHM) Innovation Awards. Norma Caples, Advanced Nurse Practitioner Heart Failure, explains how it works.
Heart failure (HF) is a chronic syndrome that is often described as an inefficiency of the heart's pump function, either by the inability of the ventricles to normally contract or relax, or due to valvular dysfunction (McDonagh et al., 2021).
Heart failure can affect any age group but currently the prevalence is 2% of the adult population and 10% of those over 70 years of age (Danielsen et al., 2017). In Ireland 90,000 people are currently living with HF (Heartbeat Trust,2015), in Europe 15 million people are currently living with HF and globally 64.3 million are currently living with HF.
It is predicted that in the next 25 years, the incidence of HF will increase by 40-60% and hospital admission rates will increase by 50% (Lippi and Sanchis-Gomar, 2020).
The cost of heart failure is driven by hospitalisation (Urbich et al., 2020). In Ireland HF costs €660 million per annum (Heartbeat Trust, 2015). Delay in diagnosis increases the risk of worsening symptoms, hospitalisation, mortality, morbidity, decreased heart function and decreased quality of life (QOL) (Bui et al., 2011).
NT Pro BNP is a natriuretic peptide that increases in concentration if the heart wall is under stress. It is a validated biomarker used in the diagnosis of HF (McDonagh et al., 2021). A patient with a NT Pro BNP value of greater than 2000 pg/ml is at a higher risk of worsening symptoms, hospitalisation, mortality and decreased QOL. They should have an ECHO and cardiology review within a two week period (Taylor et al., 2021).
For a patient 55 years old, receiving the correct HF medication can add an additional 6.3 years to their survival and an additional 8.3 years free from cardiovascular death or first hospitalisation for HF (Vaduganathan et al., 2020). Therefore, the earlier the diagnosis and intervention then the more positive impact it will have on the lives of those who are living with HF and also on the health service resources.
University Hospital Waterford is located in the South East of Ireland serving a catchment population of 500,000 people. In line with national statistics, 10,000 of the population currently have heart failure and 20,000 have pending heart failure.
The current barriers to enhancing access to diagnosis and treatment for HF were:
1) Patients not living near the hospital had difficulty attending due to travel issues.
2) GPs did not have direct access to either NT Pro BNP or the HF service.
3) COVID19 had reduced clinical capacity by 30 to 50%.
4) HF referrals in the last 12 months had increased by 20%.
5) The cardiology waiting list is now up to approximately 3 years.
The aim of our project was:
1) Deliver care closer to the patient.
2) Ensure all GPs had access to NT Pro BNP.
3) Patients with NT Pro BNP >400 and <2000 pg/ml plus signs and symptoms of HF would be seen by consultant cardiologist and receive ECHO within 4 weeks from GP referral.
4) Patients with NT Pro BNP >2000 pg/ml plus signs and symptoms of HF would be seen by advanced nurse practitioner (ANP) and receive ECHO within 2 weeks from GP referral.
5) All patients would be followed up by the clinical nurse specialist (CNS) for titration of HF medication. All patients would be reviewed by dietician.
Method:
Conception: A governance group was established which consisted of consultant cardiologist, patient living with HF, ANP HF, CNS HF, cardiac physiologist, lab medical scientistic, GP, secretary and dietician. The aims of the project were established. Funding was sought and approval was granted by SlainteCare. The primary care centres were identified as the ideal location to bring care nearer to the patient. Education was given to GPs' regarding how to interpret the NT Pro BNP results and referral pathways were established.
Definition and planning: Monthly governance group meetings were held. At these meetings progress and barriers were discussed.
Execution: The progress of the project was reviewed and recorded against baseline project plan, agreed milestones, outputs and outcomes.
Performance and Control: The performance of the project was measured against the project plan targets using monthly reports. A record of project tasks, activities and decisions were evidenced in the project action logbook. A benefit realisation plan was in place and the outcomes were measured quarterly against agreed key performance indicators.
Project Close: The validated outcomes were measured. After 9 months the final report was submitted, and the project was granted approval and future funding.
Outcomes:
24.3% were taken off the HF cardiology waiting list as the NT Pro BNP indicated that HF was unlikely. This allowed for the patient to have a more appropriate referral.
77% of those referred to the HF service were diagnosed with HF.
90% of patients diagnosed with HF were on initiation dose of their HF medication within 4 weeks of diagnosis.
NT Pro BNP reduced by 47% with the 4-week period of commencing HF medication. This showed the patient was already responding well to treatment.
The patient function class, which was measured by NYHA class, improved by 60%, which indicated the patient was feeling better.
61 patient admissions were avoided. This alone had a cost savings for UHW of approximately €638,914 and saving over 590 bed days.
Hospital readmission rates reduced from 16.7% to 11%.
The patient heart pump function improved. Many no longer required cardiac device implants.
The patient on our governance group suggested that a phone call within a week of patient discharge would be of good benefit to the patient. This suggestion was implemented and received high patient satisfaction reports.
A survey showed high patient satisfaction rate regarding easier access and improvement in self-care.
Overall, our project improved service delivery through improved access to diagnosis, and timely effective management, support and self-care management education for patients living with heart failure.
The team involved in the project are Dr Pat O'Callaghan,
Norma Caples, Kelly Huish, Anne Hennessy
Deepa Vijayamma Sadanandan, Alison Regan, Pat Mulhare,
Dr Finbar O'Leary, Seamus Cotter, Linda Ennis, Joy Hogan,
Caitriona Kiernan, Caitriona O'Gorman, Ann Flanagan, John Whelan, Susan Murphy, Grainne O'Connell, Orla Kavanagh, Grace Rothwell.
References:
BUI, A. L., HORWICH, T. B. & FONAROW, G. C. 2011. Epidemiology and risk profile of heart failure. Nature reviews. Cardiology, 8, 30-41.
DANIELSEN, R., THORGEIRSSON, G., EINARSSON, H., ÓLAFSSON, Ö., ASPELUND, T., HARRIS, T. B., LAUNER, L. & GUDNASON, V. 2017. Prevalence of heart failure in the elderly and future projections: the AGES-Reykjavík study. Scandinavian cardiovascular journal : SCJ, 51, 183- Heartbeat Trust (2015).
The cost of Heart Failure in Ireland. Available from http://heartbeat-trust.ie/wp-content/uploads/2015/12/Cost-of-Heart-Failure-Report-web.pdf189.
LIPPI, G. & SANCHIS-GOMAR, F. 2020. Global epidemiology and future trends of heart failure. AME Medical Journal, 5.
MCDONAGH, T. A., METRA, M., ADAMO, M., GARDNER, R. S., BAUMBACH, A., BÖHM, M., BURRI, H., BUTLER, J., ČELUTKIENĖ, J., CHIONCEL, O., CLELAND, J. G. F., COATS, A. J. S., CRESPO-LEIRO, M. G., FARMAKIS, D., GILARD, M., HEYMANS, S., HOES, A. W., JAARSMA, T., JANKOWSKA, E. A., LAINSCAK, M., LAM, C. S. P., LYON, A. R., MCMURRAY, J. J. V., MEBAZAA, A., MINDHAM, R., MUNERETTO, C., FRANCESCO PIEPOLI, M., PRICE, S., ROSANO, G. M. C., RUSCHITZKA, F., KATHRINE SKIBELUND, A. & GROUP, E. S. D. 2021. 2021 ESC Guidelines for the diagnosis and treatment of acute and chronic heart failure: Developed by the Task Force for the diagnosis and treatment of acute and chronic heart failure of the European Society of Cardiology (ESC) With the special contribution of the Heart Failure Association (HFA) of the ESC. European Heart Journal, 42, 3599-3726.
TAYLOR, C. J., LAY-FLURRIE, S. L., ORDONEZ-MENA, J. M., GOYDER, C. R., JONES, N. R., ROALFE, A. K. & HOBBS, F. D. R. 2021. Natriuretic peptide level at heart failure diagnosis and risk of hospitalisation and death in England 2004-2018. HEART.
URBICH, M., GLOBE, G., PANTIRI, K., HEISEN, M., BENNISON, C., WIRTZ, H. S. & DI TANNA, G. L. 2020. A Systematic Review of Medical Costs Associated with Heart Failure in the USA (2014–2020). PharmacoEconomics, 38, 1219-1236.
VADUGANATHAN, M., CLAGGETT, B. L., JHUND, P. S., CUNNINGHAM, J. W., PEDRO FERREIRA, J., ZANNAD, F., PACKER, M., FONAROW, G. C., MCMURRAY, J. J. V. & SOLOMON, S. D. 2020. Estimating lifetime benefits of comprehensive disease-modifying pharmacological therapies in patients with heart failure with reduced ejection fraction: a comparative analysis of three randomised controlled trials. The Lancet, 396, 121-128.