Long-time senior health manager, Seamus Gallagher has forged a new career in recent years – presenting two highly successful community radio programmes, writes Maureen Browne.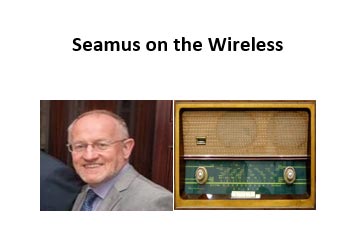 "Seamus on the Wireless" and "Kinvara Reporting," are attracting increasing audiences of people who are fascinated by his mix of local current affairs, history and community news.
Seamus was the first person in the west of Ireland to be a member of the HMI Council and he is still deeply involved in the Institute, organising regular HMI West fora and meetings.
A native of Sligo, he has had a varied career in the statutory and private health services in Ireland and Saudi Arabia, starting his radio career with "Seamus on the Wireless" in the summer of 2017.
In Spring 2017 Seamus was participating in a radio course in Galway University (NUIG) with Flirt FM when Rose O'Connor, a former senior nursing manger in the HSE, also on the course, asked, if he would like to get involved in a new community radio station which was starting in Kinvara, south Galway. Seamus joined up and was delighted when he was given the opportunity to produce and present his own programme on the station. He called it "Seamus on the Wireless," after his lovely memories of listening to the "wireless" in his home in Coolaney, Co Sligo. It is broadcast once a month.
A deal was agreed between Tom Fox and Charlie called, 'The Fox Deal.' which was the agenda for the next few years.
"The emphasis is on the past  and local coverage.  "I am very interested in history and a regular segment on a historical event which took place 'on this day' and the music of that time has proved very popular.  I also like to use good news stories, including good news stories about the local health services.  There is so much good work being done around the country and I have an opportunity to publicise many exciting initiatives, staff recognition awards and new developments."
"My second programme, "Kinvara Reporting,"evolved from my interest in current and local affairs. I was out in Kinvara and there was a considerable amount of local agitation about the transport authority and County Council wanting to remove a stone wall to widen the road and put in timber and wire fending.   The stone walls are part of the local heritage and culture and I was asked if I would present a radio programme on the controversy.
"So, I interviewed a number of people who had set up a local support group to fight the demolition.  It turned out well (the stone wall was saved) and from that we developed 'Kinvara Reporting,' a current affairs programme which I co-host every two weeks, with Christina Connolly.
"I like to keep it local, to look at local issues and interests.  During the local elections, we interviewed local candidates and indeed I got the first interview at the count from the local councillor who headed the poll.   We take a local angle to many stories.  Kinvara is very cosmopolitan and we have people living here from all over the world, so we get to localise many national and international stories.
"Our major listenership comes from the website ( www.kinvarafm.com)  and also on FM 92.4. We are all volunteers in the station ,but we are planning to expand our coverage and become commercial through introducing ads.  At present, it is run through sponsorship by local businesses, table quizzes, church gate collections, members' subscriptions."
Seamus says he gets "a great buzz" from radio."It is something in which I was always interested.  The wireless, as we called it, was constantly on at home – and of course I got the name of my programme from that.  We used to listen to Radio Athlone and Radio Luxemburg and when I was getting ready for school in the morning, I always listened to 'On This Day,' Tomas O'Cuaigh's segment on the radio in which he outlined events which had taken place on the day in the past. I still have a picture of myself, with the wireless in the background ,waiting for it to start and of course I now do similar programmes myself on both my shows.
"It was interesting that in 1978 when I left the health services in Manorhamilton to move down the road to Kells, I got a present of a car radio (in those days cars didn't have built-in radios).  When I moved from Kells ten months letter, I got a present of a transistor radio."
The major part of Seamus's career in the public health services was spent in Roscommon, where he was involved with both the acute, and psychiatric hospitals and homes for older people.
"The biggest project in which I was involved was the closure of St. Patrick's Psychiatric Hospital in Castlerea (it is now Castlerea Prison) and the development of community mental health services for the residents there.   While this was taking place, the number of general acute beds in Roscommon hospital was being reduced and an acute psychiatric unit developed and I co-ordinated both.
When I hear "Video killed the Radio Star" by the Buggles, it is 1979 again and I am driving down the Merlin Park Avenue on the first day I started working there."
The 12 years he spent in Roscommon were a huge learning experience.  "I had to design the new community services and there was huge opposition to the closure of St. Patrick's and the downgrading of Roscommon General Hospitals.  it was a highly political time.  The trade unions, public, staff and members of the Health Board were opposed to the proposals. I had to deal with Tom Fox, who had been elected to the Dail as the 'Save the Roscommon Hospitals' candidate, with the late  Sean Doherty as one of  the local TDs, Terry Leyden, Junior Minister for Health and Charlie Haughey as Taoiseach. A deal was agreed between Tom Fox and Charlie called, 'The Fox Deal.' which was the agenda for the next few years.
"It was a stressful time but, I really enjoyed the work, because it was all new and there was something different to be done each day.
"I had just come back from a year working in the Middle East (Saudi Arabia) and that opened my eyes to different ways of doing things, different cultures, laws and nationalities and that all helped me with my role in Roscommon."
In Saudi Arabia he was HR Manager for a joint health venture between the Irish National Enterprise Agency and the Saudi Military.
"At the time, there was a surplus of nurses in Ireland and the Saudi project was seen as an opportunity to secure employment for them in the Middle East and as a development opportunities for Irish export companies.  It was high profile at the time and the then Health Minister, Barry Desmond, came out to visit us."
Seamus's last role in the Irish health services was in the HSE West Regional Health Officewhere he dealt with the local Regional Health Forum, which provided for the interaction between the health services, the community and local politicians from Donegal to North Tipperary.
He left the Irish health services in 2010 to set up his own consultancy. "I also do life coaching, health consultancy, HR consultancy and assist companies starting up business.
"I had got involved with Toastmasters while I was in Roscommon and I am passionate about the importance of public speaking for young people.  Speaking in public is one of the greatest fears people have. Working with a colleague, I developed a programme called "Teen Voices" to give people experience at a young age of speaking in public.
"I live in Cregmore, which is approx. 11 miles from Galway city, with my wife Maeve, who is a Ceramic Artist, our two sons Cormac and Eoghan and our daughter Róisín."
But radio continues to be his great interest.   "One of the things I really like about radio is that you can listen to it while you do other things – you can listen to it while you are driving, cooking or working.  It makes you use your imagination, visualising a person or an event, such as Michael O'Hehir's commentary "He's on the 40, on the 30 – and it's a goal! It is also a great way of recording people's stories and unless they are recorded, they will be lost.  Also, music plays a huge part in people's lives.  A song can transport you way back in an instant.  When I hear "Video killed the Radio Star" by the Buggles, it is 1979 again and I am driving down the Merlin Park Avenue on the first day I started working there."
Seamus is very grateful to the Board of Kinvara FM Community Radio for the opportunity to fulfil a life's ambition to broadcast 'on air.' to his colleagues in the radio station, to his tutors and most of all to his listeners.