There were four immediate reforms required in the Irish health services, Prof. John Higgins, Professor of Obstetrics & Gynaecology, Clinical Director for Maternity Services South/Southwest Hospital Group, told the Conference.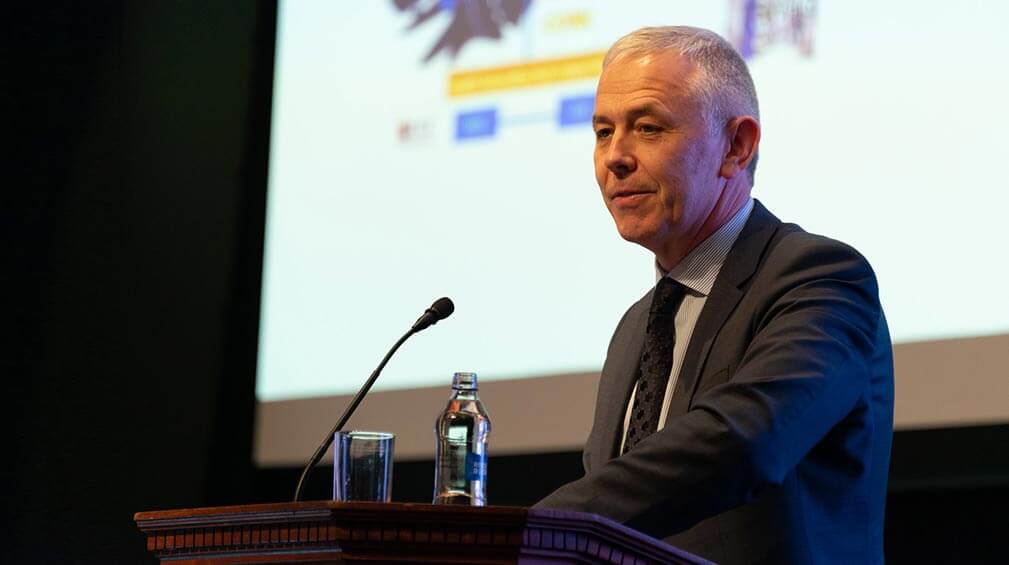 The Clinical Programmes should be moved to the Department of Health, the funding process should be changed immediately so that cost followed the patient, each hospital group should be asked for plans for reconfiguration/rationalisation of its backroom/support services and the Department of Health should be re-organised.
Prof. Higgins, who was giving the keynote address at the Conference, on "Hospital Groups: Leadership and Change," said that his professional motivation and that of his colleagues were to love and serve the people of the south and the south west.
He said the Department of Health needed the expertise that now resided in the Clinical Programmes and the Clinical Programmes needed to come out of the HSE and be moved to the Department.
"Cost must follow the patient immediately. If patients are in hospital because there are no places for them to go or no services for them in the community, then the costs must be picked up by community."
"The Hospital Groups had been established because we needed an equitable distribution of money around the country, a strong emphasis on teaching and research, which was a feature of all successful healthcare systems and better integrated care pathways plus patient choice which is very important.
The Department of Health needed the expertise that now resided in the Clinical Programmes and the Clinical Programmes needed to come out of the HSE and be moved to the Department.
"At the time there were a large number and range of acute hospitals in relative isolation, duplication and fragmentation of resources, difficulty in recruitment and retention of key clinical staff, non-compliance with EU directives and inequitable distribution of workload and resources.
"The vision was that the groups would deliver higher quality services, more consistent standards of care, more consistent access to care, stronger leadership, greater integration between the healthcare agenda and the teaching, training, research and innovation agenda.
"The benefits for patients would be safe, high quality care, maximising locally delivered care, having optimally skilled clinicians for the delivery of specialised complex care, integrated care pathways and patient choice.
"The benefits for staff were greater certainty accessing and providing services, multidisciplinary teams working across multiple sites, creating opportunities for staff, maintaining rotas; complying with EWTD and academic linkage to the benefit of all grades and locations.
"The strength of the plan is that despite no injection of political capital the groups are functioning and functioning well. And I think the groups will help SláinteCare."
Prof. Higgins said hospitals were places you went to when you are very sick, They were needed and when people were most in need they required a hospital.
"I am not saying they should be central in a health system, but they are a key component in healthcare and we need to be careful not to underestimate the importance of hospitals
"The world's best hospitals are all academic health care centres. Hospitals must have a culture of research if they are to lead change."
Speaking about the need for communication and partnership, he said, "If you are doing something worthwhile in terms of change it is going to unnerve people. If people decide to march against a development, you need to talk to them more and to explain to them. You either engage with people and bring them with you or you accept they don't want the reform."
"In establishing the Hospital Groups, we used pre-existing connections between hospital groups and we learned that the health system cannot run counter to the rest of Irish society."
"You cannot expect healthcare system to buck the trend in relation to how people live their life. Health just follows society, not other way around. A problem had been that in the past, if society did not like it, they got it anyway."
Prof. Higgins said there were four maternity units in the South/Southwest – Cork University Maternity Hospital, University Hospital Waterford, University Hospital Kerry and University Hospital Tipperary.
in our region, we volunteered to take the maternity service and demonstrate the value of real clinical leadership with Clinical Directors who have executive authority and do not just advise.
In 2017, there were 11,571 babies greater than 500g born in the South/South West maternity services. There were 11,350 mothers delivered, 19 per cent of all births in the Republic of Ireland that year.
Two thirds of all costs to the health service came from maternity services.
He said the establishment of hospital groups provided for Clinical Leadership and new Maternity Directorates.
The strategic aim of the Maternity Directorate was the delivery of clinical excellence through integrated research, education, innovation, clinical leadership and the Academic Health Centre Model.
"In our region, we volunteered to take the maternity service and demonstrate the value of real clinical leadership with Clinical Directors who have executive authority and do not just advise."
"On February 27, 2017 the official letter of delegation was received which defined the formal delegation of authority from the SSWHG Chief Executive Officer to the Clinical Director for Maternity Services. Executive and budgetary authority were to be extended into other maternity units in SSWHG in 2019 and we hope this will be done next February."
"To date, we have taken on no extra administrative member of staff.
We are lucky we are in Cork University Hospital and we get all backroom services provided by the South/South West Hospital Group."
"Across all the four maternity sites, shared clinical (i.e. anaesthetics, paediatrics, surgery) and non-clinical services (i.e. hygiene, security, catering, and maintenance) were of significant importance to the provision of safe quality care to all our patients as well ensuring safe working conditions for all our staff."
"A formal review group will be set up on each site to review the governance and management of these shared services between each maternity unit/hospital and the general hospital that supports them, so as to identify the standard operating policies
which will allow for the mutual utilisation of shared services on an on-going basis."
Prof. Higgins said that the integration of services across the Group included daily Hub teleconferences, Executive Management Committees, a Consultant Forum, the rollout of anomaly scanning, a Maternity Directorate approach to capital developments, Directors of Midwifery monthly meetings with Chief DON SSWHG, Centre of Midwifery Education access across the Group, monthly meetings with National Women and Infants Health Programme and a Mandatory Acceptance Policy (i.e. the 'no refusal' policy).
It was also the first maternity hospital to integrate the electronic chart system.
The relationship with Academic Partners provided for:
Alignment of full clinical service with academic health partner model
Clinical Director – Head of Department Obstetrics and Gynaecology
Teaching and training in all maternity units
Research and education in all maternity units
Upcoming developments through UCC
Chair in Neonatology
Chair in Gynaecology (University Hospital Waterford).
Prof. Higgins said they had brought in a mandatory acceptance policy. "We have not refused a single transfer and that is the single best thing we have done to show that the strong hospital supports the smaller hospitals. In return, they accept babies back without question."
In 2016, they identified a number of problems in the area, the lack of an obstetric theatre in University Hospital Kerry, anomaly scanning and the gynaecological waiting list at CUMH. These were now within an ace of being resolved.
"We are the first region in the country where every woman in SSWHG group receives 20-week anomaly scan."
"We have tackled the waiting lists by increasing the number of clinics and the numbers attending clinics, we have clinics running at night time, we have extra staff doing clinics and we have organised patients into groups with the same complaints. By April 2019, we hope that we will not have an outpatient gynaecology waiting list at CUMH. To sustain this progress we need the promised funding to open our second gynaecology theatre."