Lucy Nugent, HMI Council Member and Chief Executive of Tallaght University Hospital, Dublin, moderated a discussion between Mr Paul Reid, CEO, HSE and Mr Robert Watt, Secretary-General, Department of Health.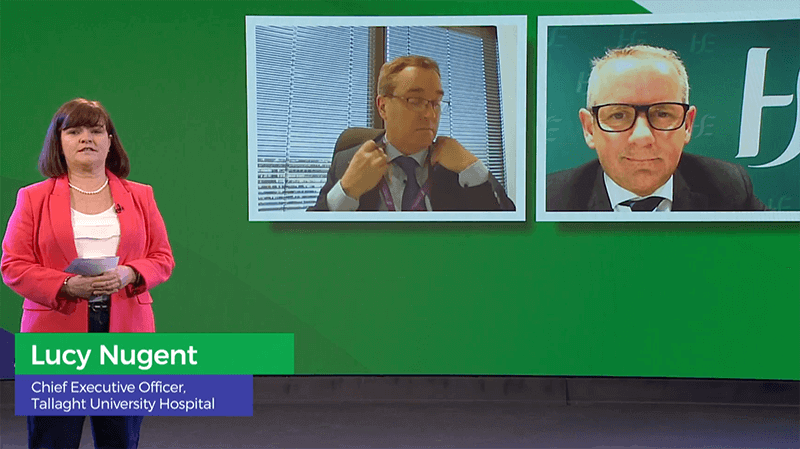 What should we keep and nurture going forward?
LUCY NUGENT:
Paul, what are the lessons learned from COVID, what do you want us to we keep and nurture, going forward?
PAUL REID:
Firstly, he would really like to thank everyone for the amazing effort they had put in over the last year,  HSE CEO, Mr Paul Reid told the Conference.
"Everything you have done has built trust and confidence in the health service and the HSE.  Looking at the pace of change, I have spent 30 years in the private sector and  I  have never seen so much change implemented by so many people in such a short space of time with such an impact. Thank you all"
Mr Reid said we tended to think of reform of the health services as something out there in the future. "For once, I think we can look back and say what we want to keep. If you take some of the main tenets of Sláintecare, keeping people safe, close to their home, shifting care to providing services in people's homes, is what we did during OOVID over the past year.
"There was a very new role for the National Ambulance Service.  It was no longer just a 24-hour x 7 days a week, paramedic organisation  It was out in people's homes, in nursing homes, in testing and vaccination centres. In COVID hubs, we put in place pathways so that people didn't have to go to the hospital, and could see their GPs in new ways. We gave  GPs access to diagnostics, integrated teams in the community and acute services worked together, we had step down care, services were provided outside the acute hospitals. Within the hospitals, we had very new, different Emergency Department pathways, very new skills within our EDs, multidisciplinary teams, we managed discharges in new ways with the funding we had, to provide people with better care outside hospitals. Dual pathways and extra capacity were put into the acute hospital  system and there was a lot of learning in how we worked with the private hospital system, particularly in this wave.  We don't need to be conceptual about it any more . We know what works and what we want to keep and thankfully most of all of that is part of Sláintecare."
Is 'accountable autonomy' part of your agenda?
LUCY NUGENT:
Paul – Some people would argue that a lot of the agility that we saw, certainly in the first wave of the pandemic, was because there was devolved decision making and the term 'accountable autonomy' has been bandied around a lot.  Do you see that as part of your agenda going forward?
PAUL REID:
"We give national direction and oversight from the centre and let the system get on and do it within the parameters.  If there is one strong learning point for me and the HSE, it is that giving the system direction and letting them do the work proved really successful.  We equally know we have to have certain levels of control, particularly around funding streams and where it is spent, but certainly what has been demonstrated is the benefits of giving direction nationally but giving people who know at the local level in acute, community, mental health and disability services,  space and parameters to do it.  For me,  it is people operating within parameters within the direction, within oversight, but having the freedom to do their job..  Within the public service, we have to operate in the mentality of 70% –  getting 70% right and aiming for that is a good place to start and go.  Waiting for 100%, delays the work too long, particularly in the context of a pandemic.  We will defend people afterwards who are out to do the right thing and some things didn't go right  and some things go wrong, but  7 out of 10 went right."
What do you want to get out of our health investment this year?
LUCY NUGENT:
The year 2021 has seen one of the largest investments in health we have ever seen, an extra €4bn, so there is a health budget of  €22 bn and the Access to Care fund at €210 million is welcome. We are expecting any day the actual implementation plan to be published. What do you want to get out of that?
PAUL REID:
Robert and I and our teams are working very closely on this one and I think it is a great opportunity for us to look at doing things very differently because we all know and all of you who are working as health professionals know the impact of COVID on waiting lists.  There is an opportunity in the Access to Care fund, but not just in the Access to Care fund, to now look very differently at how we might approach that.  And we are looking at whether there are new ways of tackling this, how we prioritise what we want to do, how we focus on what we want to do,  where do we want to do it, what waiting lists do we want to address and what area and on what basis what illnesses do we want to address as a priority.  I will give you one example of doing things differently.  Look at Citywest what is out in Citywest at the moment. There was a facility that we had designed originally as a field hospital  Out there, we have waiting lists being addressed for a whole number of specialities.  Children's waiting lists,  ophthalmology waiting lists, now COVID respiratory, long term illness waiting lists.  I met two plastic surgeons out there last week who were looking at utilising it between Cappagh Hospital and some other places for addressing some of their waiting lists in a new way.  I just use that as one example because one of the things Robert and myself are keen on is that we do things in a different way.  I think we jointly have a bit more work to do on it together.  We are also very focused on addressing the waiting lists outside the Access to Care Fund.  There are three key pieces I think will make this work.  Firstly,  is how do we build up capacity in the public health system to address some of the waiting lists.  Secondly, how do we utilise capacity in the private health system and that may be an opportunity and thirdly there are many new clinical ways of working, new operating ways and new diagnostics that we can put in place and some of which we have used in COVID.
Will you keep on tweeting?
LUCY NUGENT:
In relation to communicating with the public and with each other and social media, you are a prolific Tweeter and I tend to like and re-tweet much of what you say, because it is helping us to get the message out there to ourselves and also to the public   But it can also be quite a toxic thing, so is it something you feel you are going to continue doing?
PAUL REID:
I think social media is a very good way of getting messages out to staff and messages out to the public. As Robert has said you certainly wouldn't like to take it seriously or read some of the commentaries on it.  I think it has a value we have to manage very safely for people.  You can see how people can be really hurt and damaged by social media.  It is a very toxic space out there, so I think that as Robert it is a very useful tool said for communicating information out, but people have to be more and more careful about it.
How do we keep a positive image of health service?
LUCY NUGENT:
I think at the start of the pandemic there was great calling to arms, great pride in the health service and of course, now people are starting to get weary.  No more than people outside of health, because I think that as a nation and a world we are getting sick of the pandemic.  How do you think we can keep that positive image of the healthcare system and pride in it.
PAUL REID:
We know for sure during the pandemic the public trust and confidence in the health system improved month on month throughout the whole pandemic.  We know we started from a low base because it is a  very fragile issue and we know it can collapse at any stage.  Then you have to ask yourself why was that and one of the reasons we understand from research is that the public heard a more coherent voice from the health system and when they needed to trust the health system, they heard trusted voices and trusted information whether that was from  National Public Health Emergency Team,  from ourselves in the HSE, from Ministers, from Government,  They certainly fed back to  us that they heard a more coherent voice coming from the health services.  It is not that we want everyone to be singing off the same hymn sheet all of the time but there is a way of addressing issues we have to address within the lodge and within the health system, and not be throwing cannons at each other in the public arena.   We know sometimes it might feel like you are winning if you have a pop of the HSE or you have a pop at me or Robert or local hospital managers but actually it doesn't  It's a lose-lose game it can damage your own agenda  I said when I joined the HSE I felt we were at war with a lot of our stakeholders a lot of the time. And I think over the last year we have  all put down arms and worked coherently on  a really big goal which was protecting the public and I think the public valued that Lucy – We've stopped throwing stones at each other.
Paul Reid
Chief Executive Officer, Health Service Executive.
Paul has led large organisations in the private, not for profit, central and local Government sectors. In May 2019 he was appointed as Chief Executive Officer of the Health Service Executive. Paul has the privilege of leading over 117,000 dedicated staff who deliver a wide range of health services across Ireland. Paul is a passionate public servant whose vision for the health service is to focus on long term planning by implementing Sláintecare and delivering effective and safe services within available resources.
Paul holds a Masters in Business Administration from Trinity College and a BA in Human Resources and Industrial Relations from the National College Ireland.
Paul is committed to building confidence and trust in our health service by supporting staff to deliver quality patient care through a new model of integrated services.