Mr. Lorcan Birthistle, President, HMI and CEO, St James's Hospital, Dublin, welcomed health managers from all over the country, who packed the Concert Hall at the RDS, Dublin for the ninth HMI Annual Conference, last week.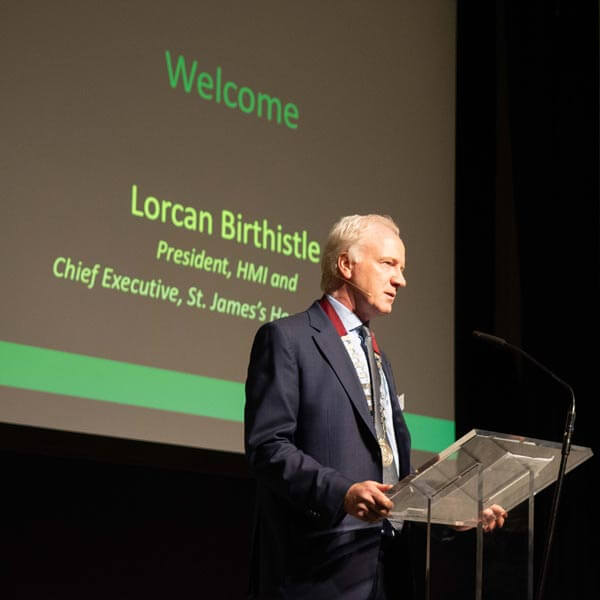 "People, Passion, Performance," was the theme of this year's Conference, which over the last nine years has grown to become Ireland's premier healthcare conference.
The President said the HMI was delighted to have such an impressive list of speakers for the Conference and such a large attendance of health managers. The Institute was indebted to the speakers for the generosity they had shown in sharing their time. He hoped that all those who attended would benefit from the experiences shared with them by the speakers and from the networking opportunities provided by the conference.
Mr. Birthistle, who took over in September as the President of the HMI paid tribute to his predecessor, Ms. Lucy Nugent, who is also CEO of Tallaght University Hospital, Dublin. "During her term of office, Lucy has done an enormous amount of work. She has broadened the appeal of the HMI, done much to raise its profile among health managers and made it an important stakeholder in the health services."
He said the HMI was very important to him not only for its important role in the direction and operation of the health services, but also personally. "When i first joined the health service as a Grade 11 – a grade most of you have never heard of – the first course I did was a HMI course in the College of Commerce in Rathmines. For better or worse that led to other courses and set me on the road of management. I would commend the HMI and the important personal and corporate opportunities it can provide for us all," he said.
"The HMI provides an unique opportunity for health managers to network, share their experiences and learn from each other. We run courses and in addition to our national conference, we hold meetings and fora around the country where managers can meet and learn from each other.We have a proud history of promoting excellence in management in the provisionof healthcare services and we look forward to celebrating our 75thanniversary next year."