The Gerontological Emergency Department Intervention (GEDI) team is a novel interdisciplinary initiative which aims to meet the needs of a growing frail older population and to enhance patient access to the provision of Comprehensive Geriatric Assessment at TUH.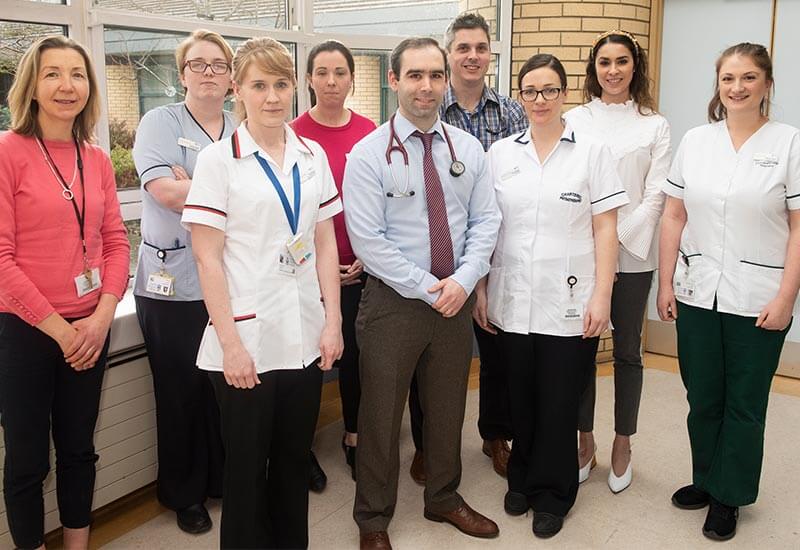 The team includes Specialist Nursing, Occupational Therapy, Physiotherapy, Social Work, Speech and Language Therapy, Dietetics along with a Geriatrics Registrar and with oversight from the hospital's Consultant Geriatrician, Dr. Derek Hayden and Emergency Department Physician, Dr. Jim Gray.
GEDI team members proactively screen patients aged 75 years and older presenting to the ED to achieve early identification and proactive management of their physical, functional and social care needs. The overarching aims of the service are to gerontologically attune acute floor processes, to optimise and maintain physical and cognitive function of older adults ,while promoting wellness and independence.
Objectives and targeted Benefits from GEDI
Early identification and comprehensive multidisciplinary assessment of frail older patients at risk of deconditioning.
Early access to Comprehensive Geriatric Assessment for frail older patients.
Holistic approach to facilitate patient centred care and enhanced patient experience.
Early initiation of MDT input in establishing care plans as well as timely discharge planning.
Working in partnership to achieve streamlined and integrated acute care services for frail older patients.
Support admission avoidance strategies and patient discharge to their own home with community follow up.
Support the development and acute floor implementation of clinical care pathways for frail older patients including falls/immobility, delirium, incontinence and polypharmacy.
Delivery of the National Frailty Education Programme.
In the first three months since its introduction in mid-December 2018, the GEDI team saw over 130 patients in the ED with an average age of 82 years, over 40% of whom were discharged home from ED. When all team members are in position, the GEDI service aims to review approximately 2,500 ED patients during 2019.