A large number of innovative projects which improved patient care and services were entered for the HSE Community Healthcare West Staff Recognition Awards in 2018, Mary Heaney, Project Manager for Staff Recognition Programme, Community Healthcare West, told a HMI Regional Meeting in Galway last Wednesday. Maureen Browne reports.
Ms. Heaney said the awards were introduced to recognise staff achievements, to inspire staff to develop better health and social services, to showcase achievements and to 'Share the Learning'.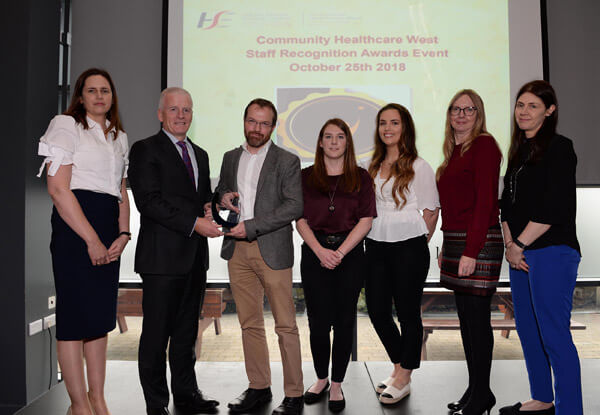 The awards were open to all staff working within Community Healthcare West (Galway, Mayo & Roscommon) and to all HSE staff providing services directly or indirectly across Community Healthcare West. A total of 61 entries were received.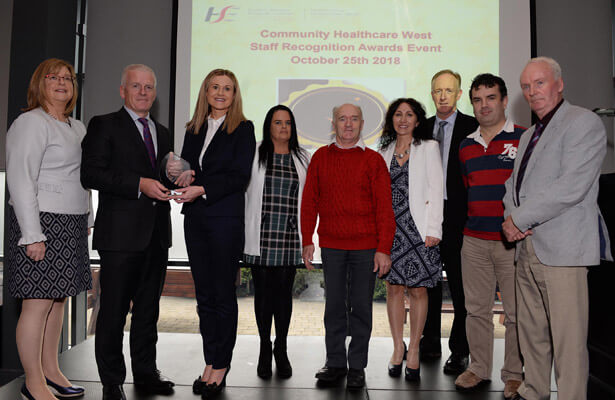 The Judges used the following criteria to assess the applications:
HSE Values
Building a Better Health Service
Innovation
Engagement
Voice of the Service User
Integration
Quality & Patient Safety
Efficient and Value for Money
Transferability
Supporting Service Delivery
Unique Features
The Judging Panel consisted of Dr Diarmuid O'Donovan, College of Medicine, Nursing and Health Science (Clinical Nominee) representing NUIG, Grainne Colreavy, representing HBS, Therese Cunningham, HR Manager, Cavan Monaghan representing CHO1 and Mary Garvey, General Manager, Roscommon University Hospital, representing Saolta.
Applications were accepted between April 16 – July 11, 2018. Of the 61 applications, 20 were from primary care, 18 from mental health, 6 were from social care, 2 from finance, 3 from HR, 2 from support services and 1 from health & wellbeing.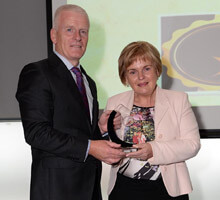 Ms. Heaney said there were 19 winners across three Categories. Six winners were in the Innovative Project category, 7 in the Service Improvement category and 6 from the Exceptional Service/Unsung Hero category.
The winners were presented an award by Mr. Tony Canavan, Chief Officer, Community Healthcare West, at a Recognition Event in Galway, attended by 180 people. Seven of the winners came from primary care, 3 from social care, 7 from mental health services, and 2 fell into the "other" category.
The winners were as follows:
Category 1 – Innovative Project.
Overall winner in this category – Heartsaver CPR AED Training for Family Carers – Social Care Services, Newcastle Road, Galway.
Paperless Computer System – Podiatry Dept. Merlin Park Hospital
Community Partnership Model for Occupational Therapy Service delivery in School – Primary Care Galway.
The Eden Programme – Mental Health Services.
Patient Flow Quality Improvement Initiative. Nursing Discharge Information Galway University Hospital to Liaison Public Health Nursing.
Overcoming Incontinence after Prostate Cancer, An Integrated Approach to Continence Care for Men in County Roscommon – Primary Care Centre Roscommon.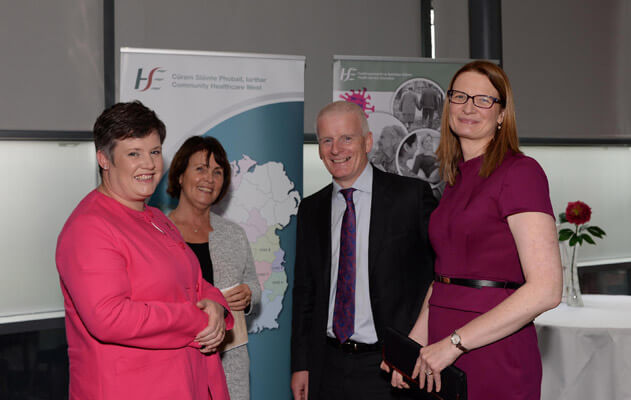 Category 2 – Service Improvement.
Overall winner in this category) – Access to Psychological Service in Ireland – Primary Care Centre Roscommon.
Efficient Management of Step-down beds without Compromising Care Standards – Ballinasloe Community Nursing Unit.
Community Intervention Team Galway – Primary Care Services, Galway.
Influenza Vaccination Campaign – Bellmullet Community Nursing Unit.
Bullying prevalence and impact on self-esteem, mood and anxiety levels in 2nd year students, risk management and psychological follow up in a primary care Psychology service, Team Primary Care Centre.
Life Story Book Mental Health Services – Mental Health Services Ballinasloe.
An evaluation of the operation and effects of the Mental Health Act 2001 from the view-points of service users and health professionals – Galway Roscommon Mental Health Services.
Category 3 – Exceptional Service – Unsung Hero.
Overall winner in this category – Helen Byrne, Clinical Nurse Specialist Addiction, Mental Health Services.
Michael Quinn, Multi-Task Attendant , Mental Health Services.
Lorna Sumner, Clerical Officer, Finance Department, Galway.
Helen Heneghan, Clinical Nurse Specialist, Mental Health Services
Catherine Walsh, Principal Social Worker.
Sean Fergus, Head Gardener, Merlin Park Hospital.
Applicants not shortlisted for an award received a letter from the Chief Officer.
Ms. Heaney said that the citation for Lorna Summer, Clerical Officer, Finance Department, Newcastle Road, Galway, read:
"Lorna is typical of many previously unsung but critical cogs that make the HSE wheel turn. In Lorna we have a colleague who is committed to doing the right thing in the least possible time. Lorna's colleagues nominated her because in her we see the best qualities of customer service and patient care. Lorna's way of working brings comfort and certainty to many people who find themselves at the interface between acute and community care. Lorna achieves all of this while navigating the many rules and regulations which govern the approval of and payment for critical medical supports for our service users. In her efficient and determined way, Lorna is an exemplar of how to take initiative on the service user's behalf whilst adhering to the administrative rules to which we are all bound. We are so proud to nominate Lorna today, because she shows us every day that it is possible to achieve that necessary balance between practical reality and fulfilling our mission of building."
Mr. Seamus Gallagher, Secretary, HMI West, thanked Ms. Heaney for her very interesting presentation. He also thanked all those who had attended the meeting and urged any non HMI members to consider joining the Institute.