An Tánaiste Mr. Simon Coveney T.D has officially opened an extension to the Radiology Department and the new Paediatric Assessment Unit at the Bon Secours Hospital Cork.
Opening the radiology extension, Mr. Coveney said, ''The additional Radiology capacity for patients who require various types of scans is very welcome and will be of great assistance to GPs.
"This new development in radiology services is in addition to the building of a new Cardiac Cath Lab in recent times. The new state of the art MRI open system is great for patients in that the MRI is a faster examination and much less claustrophobic. The additional CT scanner will reduce waiting times for patients in the greater Munster area, which is very welcome.''
Mr. Harry Canning Hospital Manager Bon Secours Hospital Cork said, "The very busy Radiology Department is supported by highly trained specialist staff and we are very pleased that we will be further able to assist GPs and their patients with our services. In the region of €4.5m has been spent on the modernising of the department and the purchase of world class equipment. The new equipment markedly increases our capacity and will facilitate same day appointments and scan results for patients.''
Opening the Paediatric Assessment Unit, An Tánaiste said, "The Paediatric Assessment Unit at the Bon Secours Hospital Cork is providing a valuable service for GPs and their Paediatric patients that require urgent medical care. This new Paediatric Assessment Unit at the hospital provides GPs and parents with rapid access to Consultants in emergency/Paediatric medicine and immediate access to state-of-the-art diagnostics and a hospital bed if required. The unit marks an important step forward in providing a greater level of healthcare for sick children across the Munster region."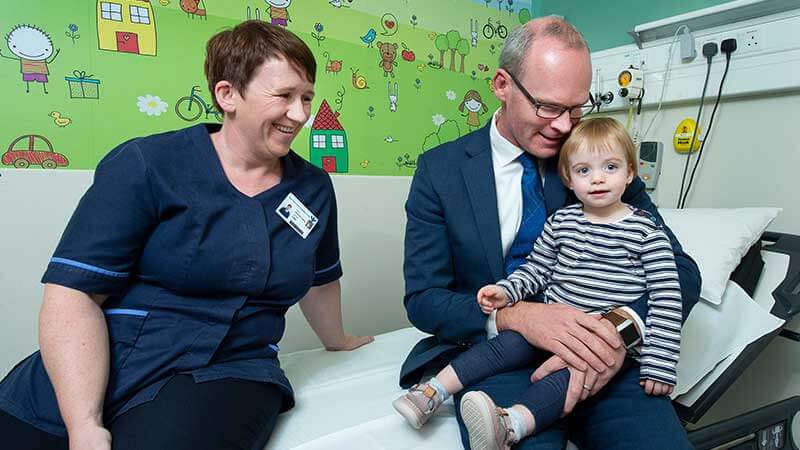 Mr. Harry Canning said, "We expect that the Paediatric Assessment Unit will grow by 10% per annum over the coming years. To support the expansion of the Paediatric service additional specialist staff as in Consultants and Nursing staff in particular have joined the hospital.'' The Paediatric Assessment Unit is open to children (28 days to 16 years) five days a week, Monday to Friday, 8am to 6pm. Attendance is by way of GP referral. Over 800 children have been treated in the Unit in the past number of months with those requiring a hospital bed admitted swiftly.
Bons Secours Hospital Cork is investing €77m in a major expansion that will include the development of radiotherapy to support Cancer services, 81 single rooms, additional operating theatres and critical care facilities. The 6-storey development commenced in 2016 with opening planned summer 2019. The expansion of the hospital and the development of services will bring 75 new clinical jobs at the hospital.