Lithuania, National Coordinator, Mrs. Davia Zagurskiene
The presenters were Stephanie Miklau, Head of Occupational Health and Safety Management Vienna Hospital Association, Social Medical Center East, Danube Hospital and Maria Saenz Jalon, Nurse; Operating Theatre, Marques de Valdecilla-Santander University Hospital, Associated Teacher at University of Cantabria.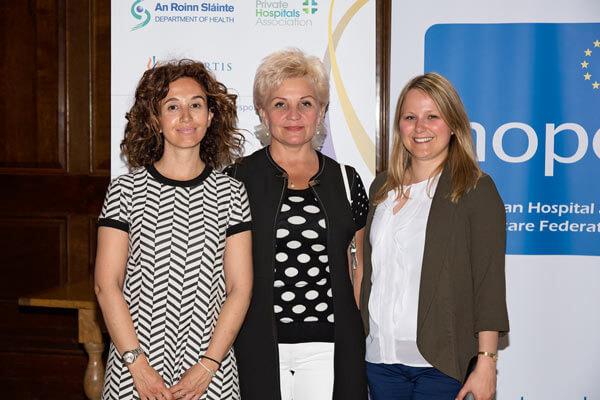 They said Lithuania was 65,300 km2, with a population of 2,827,947. The capital and largest city is Vilnius, the official language is Lithuanian and it borders Latvia, Belarus, Poland, Kaliningrad Oblast.
The three innovations which they saw there which they would like to see implemented in their own country/hospitals were rehabilitation centres including vocational therapy, nursing education and mechanical waste treatment for infected waste.
They selected rehabilitation centres because, for example, the Rehabilitation Center in Palanga provided medical, vocational and active rehabilitation services in one place for patients after severe head, spinal cord injuries, various traumas, surgeries, suffering from nervous and pulmonary disorders
The Palanga Rehabilitation Center was the largest rehabilitation centre in Lithuania with 220 beds and a duration of stays of 100 days for spinal injuries, 54days for stroke and 24 days after hip and knee replacement.
The team there consisted of Neurologists, Psychologists, Social Workers, Physiotherapists, Speech therapists, Ergotherapists and Kinesiotherapists.
The aim of their training was to improve the maximum independence of people with disabilities to face their new lives.
At the Palanga Rehabilitation Center they used a specially adapted kitchen and a training garden. Patients learned more about the prevention of pressure ulcers, to carry drinks in wheelchairs, to open doors, personal hygiene and sexual life.   They had the possibility to take part in activities of daily life, e.g. basketball, archery and barbecues.
There was also vocational rehabilitation to develop new skills in order to participate in the labour market. At the Palanga Rehabilitation Center it was possible to become a jeweller, tailor, woodworking specialist, shoemaker, manicurist & pedicurist, hairdresser, IT specialist or management specialist.
They said nursing studies in Lithuania corresponded to the EU standards for nursing. Master and doctoral programmes were available in English and there were student and teacher exchange programmes.
Nurses could specialise in anaesthesia and intensive care, community nursing, mental health nursing, operating theatre nursing and emergency medical care.
They said they selected a mechanical waste treatment for infected waste because of the low costs of investment and maintenance, the reduced costs of the treatment of infected waste, the reduced amount of waste (by between 40-70%) and the reduced need to transport infected rubbish to another place for treatment. It also destroyed pathogenic agents, avoided remains, did not use chemical agents, was a safe and clean technology for the environment, needed minimal staff and was easy to handle.
Other innovations they would like to see implemented in their own hospitals were ehealth innovations, data protected registration with a numbering system, mobile CT and mobile MRI for intraoperative imaging for precision surgery, ground based automatic door opener, e.g. in operating theatres to avoid cross infections, traffic lights for noise measurement, e.g. in the Neonatology Department and a MediTouch HandTutor.