In April 2015 the Subcommittee for Mental Health, one of the four subcommittees in European Association of Hospital Managers, was gathered in the lovely coastal town of Kinsale outside Cork, for a visit to Irish mental health services and to conduct our Spring meeting, writes Inger Kari Nerheim, President EAHM Subcommittee for Mental health (SCMH).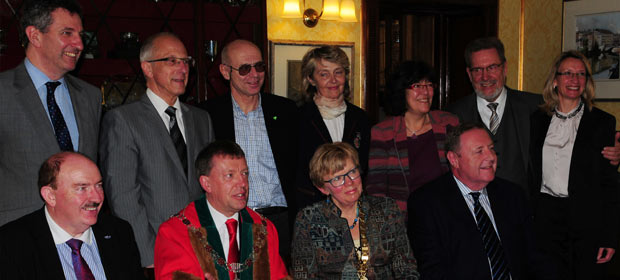 The Subcommittee has 13 members from 11 European countries, and it is a group of impatient leaders, who wish to contribute to service development. The countries currently represented in the Subcommittee are Ireland, UK/Northern Ireland, Germany, France, Belgium, Switzerland, Croatia, Norway, Denmark, Italy and Luxembourg.
The meetings bring us to visit different countries' mental health services, with a view to learning from each other. Each host country presents its best research contributions, and invites the others to share current policy discussions, in order to instigate collaboration and quality improvement across borders. The last visit, in September, was to the mental health services in Croatia, which also was very inspiring.
Integration of somatic and mental health services? Consequences for patients?
The EAHM leadership is currently working together with the Subcommittee to make mental health services better integrated in the hospital managers' organisations. The message from the Subcommittee is that there is a definite need for a more holistic view on illness and wellness in our hospitals, and that a development in this direction will support both the "somatic" and the "psychiatric" patient as we categorize them today. We have seen in our services that the patients and their families and networks can benefit greatly when the somatic and mental health services work together. We have to begin at the leadership level – the professionals need the support of their leaders to make this change.
There is great need for routine data gathering on how the patients we treat actually are faring, and which treatments are actually working.
Why do people with mental health problems have a lower life expectancy than the rest of the population?
One of the issues which the Mental Health Subcommittee finds it important to address jointly in the European setting, are the well documented findings that persons who have a severe mental illness have a life expectancy rate of between 16 and 30 years lower than the general population. The numbers have been found in replicated studies all over Europe and internationally.
Patients with a mental health disorder are to a great extent invisible in our services when they, as all others, contract cardiovascular disease, diabetes, lung disease, or present with metabolic syndrome. In addition, many of the medicines have debilitating effects and need to be monitored closely. The sedentary daily routines in many of our treatment facilities have not increased the wellness potential of the service users, to put it mildly. Appalling and shocking are words that will be used when the next generation looks back on these statistics, indeed, that is how we as leaders and professionals reacted.
There are many reasons, but no excuses for not resolving this now. In most countries, hospital services for people with mental health problems are part of the general hospitals, and should have had good routines for ordinary somatic health diagnostics and treatment for people who are experiencing mental distress. The secondary health services have been integrated on the organizational level only, not on the clinical level.
The last 15 years have seen activity based funding giving a boost to somatic services, while mental health and addiction services have lagged behind.
When the wake-up call came on the life expectancy rates, many mental health services were already looking for better collaboration across services and across the primary health and secondary care divide. Through EAHM the Subcommittee hopes to contribute to setting this issue on the agenda. The time for a decisive change is now. To achieve this aim, we need to come together on all levels, in politics, the professionals who are working out procedures and treatment plans, financial departments who define the funding scope, and through all this, speed through impatient leadership.
The recovery movement – a philosophy, and an ethical force
In 2011 the Subcommittee made a commitment to support the international work on personal recovery in mental health and addiction services. Patient autonomy and dignity are central values in this reorientation of services, which is getting an increasing momentum, especially in the English-speaking world. In Berlin 2014 the EAHM biannual leadership conference featured a keynote talk by Professor Geoff Shepherd from the UK NHS organization Implementing Recovery through Organisational Change, IMROC. The keynote was followed by a workshop on recovery projects in Europe.
Member countries in the EAHM are increasingly planning projects and making vision statements, which support services in joining forces with patients in creating self-directed care systems. The recovery philosophy brings a stronger focus on the "social" part of the treatment spectre in what often is called the "biopsychosocial" model of mental health. Respect for the individual's right to make their own life decisions, even in periods of mental distress must go hand in hand with the best, evidence based treatment and thorough and complete diagnostic procedures.
Quality improvement – a results focus in services
What are the results for the patients after weeks or years in mental health and addiction services? The governments have asked services to report on a number of parameters like persons treated per staff, number of overnight stays, number of acute admissions, length of stay, costs per day, cost per intervention even, but rarely on the rate of return on different treatment options and hardly ever on improvement in the person's quality of life.
There is great need for routine data gathering on how the patients we treat actually are faring, and which treatments are actually working. Use of therapies in primary care services could possibly play a part in preventing unnecessary hospital admissions – as of today, there is little we as leaders can do to instigate the necessary processes across service levels that could facilitate change. What we measure, can, however, be decided by ourselves, and through better collaboration we can find good quality measures. The Subcommittee will work through EAHM's IMPO project with themes like these.
How should mental health services be funded?
The Subcommittee finds questions of activity based funding of great importance. Several of the members have worked on this issue in their respective countries. The way our services are funded clearly has an effect on how we deliver services. The last 15 years have seen activity based funding giving a boost to somatic services, while mental health and addiction services have lagged behind. A change is needed, but the difficulty in defining care levels for our patient groups must be taken into account. Trials in Switzerland have shown that the level of care and treatment needed for an individual patient does not follow diagnostic categories. Indeed, with the dimensional view of mental health problems, the diagnosis has already become redundant as a sole marker for care delivered, or resource use. A new system must assure that the patient is secured optimal, individually tailored treatment, and not lose out in sub-optimal or random categorization.
EAHM and mental health services
Through EAHM conferences, the IMPO project for a new lease on effective hospital organizations, through gathering of people across professional and national borders, working on projects, bringing forth the issues for debate, we aim to collaborate with somatic services to create an integrated service with better results for our patients. Help must be available as soon as possible and as close to the ordinary daily activities of the person in distress as possible, and to accomplish this, there must be a strong focus on what service users and their families and workplaces actually want and need. In order to succeed, the user organizations on European and national levels must be a partner in this endeavour, and the Subcommittee is looking for ways to improve our collaboration with the users' voice in mental health and addiction in Europe.