The Health Atlas Ireland Aero-Medical was the winner of the Biomnis 2013 award for Irish Technology Innovation, writes Dr. Howard Johnson, Clinical Lead, Health Intelligence, HSE.
The Health Atlas Ireland Aero-Medical was the winner of the Biomnis 2013 award for Irish Technology Innovation.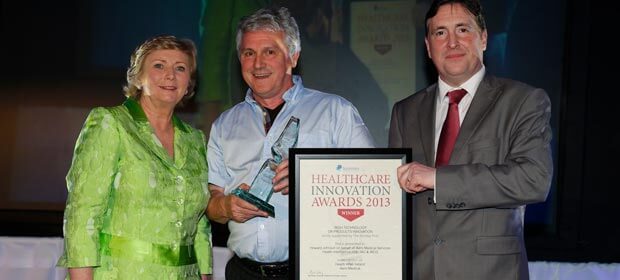 Its purpose is to optimise clinical outcomes by enabling safe air-transport of patients to specialist facilities for time-critical care e.g. for trauma, coronary, stroke or transplantation.
The Aero-Medical Service required a specialised mapping system to:
Enable real-time sharing of identical mapping information between the HSE Aero-Medical Service dispatchers, the Air Corps and the Coast Guard.
Quickly and accurately pin-point the location of patients anywhere in Ireland in urgent need of air transfer to specialist clinical care facilities.
Generate the coordinates (latitude/longitude) and a picture of a suggested helicopter landing site nearby where air and ground based services could safely rendezvous and be co-ordinated by radio.
Health Intelligence HSE led a multiagency collaborative initiative to create the solution that included:
Aero-Medical Services HSE
Air Corps (AC)
Irish Coast Guard (ICG)
Ordnance Survey Ireland (OSI)
An Post GeoDirectory
ESB Networks
OpenApp
Those working on the project include Dr. Howard Johnson, Ian Folan, Fionnuala Donohue, Douglas Beaton, Health Intelligence HSE, Colm Megan, National Ambulance Service, HSE, Mel McIntyre and Nigel Hanlon, OpenApp.
The system is simple, accurate and intuitive to use so that the minimum time is required to identify rendezvous locations. The screen is uncluttered but highly functional and responsive. Training requires only a single session. Background guidance notes are included. System access is controlled through internet protocol (IP) lockdown or security certificates.
Geographical features are geo-referenced using the Irish Transverse Mercator (ITM) system. Rendezvous locations are expressed in latitude/longitude. OSI MapGenie maps (road, aerial photography and hybrids) are used. Address/location look up exploits GeoDirectory (An Post) and the OSI Gazetteer. Google Street View is embedded as an adjunct so as to enable the pilot/navigator to anticipate local hazards in proximity to the landing zone.
The map menu display options include hospitals, Garda stations, airfields and helipads that are maintained in the HSE Service Directory which multi-sources, updates and classifies health related service data on a national basis. Potential hazards to aircraft such as overhead power lines (ESB Networks) and buildings (GeoDirectory) can be displayed. Maps can be printed or transmitted to other users via a "live link". Distances in nautical miles and kilometres can be accurately displayed.
Special functions allow the Air Corps and Coast Guard to separately identify, document, moderate and display pre-determined landing zones (PDLZs) that are identified from their national surveys and suitable for their particular aircraft. A hardcopy of the rendezvous site map and associated details can be printed and carried on missions for reference purposes.
The process
Emergency 112 or 999 calls are routed as appropriate to the HSE National Aero-Medical Control Centre (NACC) which liaises with the Air Corps or Coast Guard according to standard operating procedures (SOPS).
The patient's address/locality is entered in the Address Finder (GeoDirectory & OSI Gazetteer) or the Service Directory (HSE). The matching address/locality is selected and pinpointed on the map.
A single click over a local service (e.g. Garda station) reveals the address/telephone number so local assistance (e.g. securing the helisite) or local information can be sought.
Aerial photographs are selected and the overhead power cables and buildings are displayed.
Potential helicopter landing zones such as a sports ground or large field are noted and the target icon is moved to the location. The latitude and longitude are displayed and radioed to the aircraft. Where a PDLZ is nearby, its unique identification number is used for ease and accuracy of inter agency communication of the rendezvous point.
Final decisions on landing are made based on SOPs and pilot evaluation of conditions.
Summary
The Health Atlas Ireland Aero-Medical module is operational on a national basis and used daily. The novel system enables exceptional inter-agency coordination and has become an indispensible tool in the daily response to emergencies across the country.