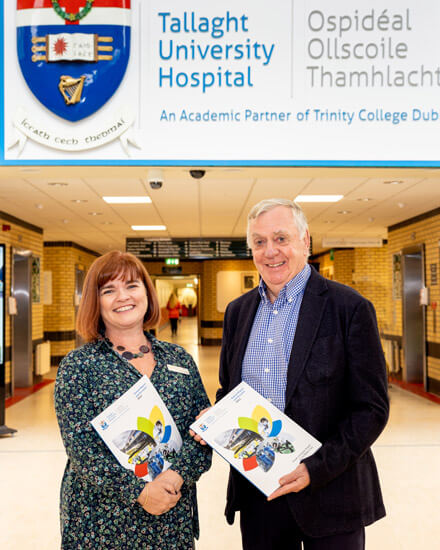 Tallaght University Hospital reported a significant reduction in its waiting times for daycase procedures in its 2022 annual report, which has just been published.
It reveals there was an 82% reduction in the number of patients waiting longer than 12 months for a daycase procedure. Overall this particular waiting list fell from 262 in January 2022 to 48 in December 2022. This was primarily as a result of the Hospital opening its new Reeves Day Surgery Centre, which is located across the road from the main campus at Tallaght Cross West.
Other key waiting list improvements include:
The number of patients waiting longer than 12 months for an inpatient procedure fell from 344 in January 2022 to 225 in December 2022, a decrease of 35%.
A total of 272,869 patients attended an outpatient appointment in 2022, up 8% from 2019 activity.
The number of patients waiting more than four years for a new outpatient appointment was reduced from 1,605 at the beginning of 2022 to 1,300 at the end of the year, a 19% reduction.
TUH CEO Lucy Nugent said, "Looking back on 2022, we can see that despite the ongoing challenges of the COVID-19 pandemic, it has been one of tremendous growth for us as a Hospital. Twelve brand new state-of-the-art ICU beds were opened while The Reeves Day Surgery Centre has enabled us to dramatically reduce waiting times. This TUH day surgery model has proven so successful the Government have announced plans to replicate it, at other hospitals around the country."
The brand new Intensive Care wing of the Hospital opened on time and on budget in late August 2022. The 1,750 m2 expanded space is on the first floor of the Hospital and is made up of 12 Intensive Care Unit (ICU) beds, each of which is in a single room. TUH had just nine ICU beds before this new wing opened.
Plans have also been approved for a new Women's Health Unit just across from the Hospital which will provide a suite of services to Gynaecology patients including pelvic ultrasound, diagnostic hysteroscopy, and endometrial biopsy. The unit will also provide a complete Colposcopy service. The additional space will enable the Hospital to have an additional 3,000 Outpatient appointments per year.
The annual report showed that in 2022:
Overall admission to the Hospital through the Emergency Department (ED) was up 6% (an additional 851 patients).
Admissions of patients presenting to the ED over the age of 75 was up by 19%.
The number of patients medically fit for discharge but awaiting a bed in a suitable community facility or waiting on a home care package ranged from 40–63 patients throughout 2022. This was predominantly a result of ongoing challenges in the community in relation to resourcing homecare packages.
The ongoing requirement for single rooms for patients with COVID and other infectious conditions continued to place upward pressure on beds.
Liam Dowdall, Chairman of Tallaght University Hospital Board said, "I fully recognise the incredible efforts the management and staff have made to reduce waiting times for patients in both our scheduled and unscheduled care. Whilst so much has been achieved with the opening of the Reeves Day Surgery Centre and moving a number of clinics into the community, the level of inpatient care we can provide continues to be restricted by both the size of our footprint and community supports. I look forward to seeing real progress being made in 2023 in the development of additional bed capacity and greater capacity in community supports for patients. As the number of patients and their acuity increases and is forecasted to continually increase for years to come this is becoming increasingly urgent."