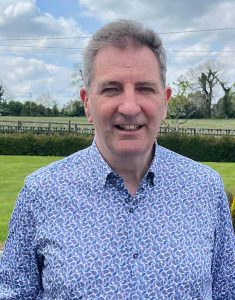 My first encounter with the HMI, formerly known as the Institute of Hospital Administrators, came from a discussion on career progression with Mr. John Kincaid. the then SEO Personnel in the Midland Health Board. That was 1983.
At the time I working as a Clinical Teacher in the School of Nursing at St. Fintan's Hospital, Portlaoise and with John's guidance and encouragement I began looking into the Institute.
I would go on to work with John in later years in my capacity as Offaly Community Care Administrator based in the Health Centre Tullamore, where John was my manager.
So in September 1983, I arrived in the School of Commerce, Rathmines, for my first Institute course, not knowing anyone and wondering what I was doing there but I was very quickly made feel welcome by my fellow students and our lecturers.
I was introduced to a wide range of useful topics that continue to benefit me professionally to this day – finance and accounting, law including each of the Health Acts and a thorough look at the Constitution as well as health services and their structures.
These are just a small number of the topics that we had an opportunity to study in a discursive way. It was this style of constructive learning that helped to strengthen our skills in building a strong and informed opinion, listening and debating.
Our classes were rich in diversity and made up of people qualified in areas right across the health system. I was very fortunate to be able lean on classmates who went on to become friends, but throughout our study we worked in the spirit of mutual assistance. When it came to exams and other marked assessment, we would always be there to help one another out.
On two evenings a week, in all weather, I would travel from Portlaoise to Rathmines to attend lectures. Nowadays the roads have dramatically improved, but back then it wasn't such a straightforward commute and so my wife, Mary Frances would come for company.
Mary had an aunt living nearby on Morehampton Road and I would drop her off to catch-up with her aunt while I attended class. We would arrive in home about 11:30 pm and I would arrive to my regular shift in St. Fintan's for 8 am the following morning. The work/study balance was sometimes a struggle, and on one occasion Mary Frances went into labour en route home from Rathmines. We arrived home that night after my lecture to have a successful delivery of a healthy baby boy, Brian.
The following year, I qualified in the Diploma in Hospital and Health Services Administration. I was fortunate to go on to study for the Higher Diploma. Both courses have stood me so well over the years, and I still draw on things I learned during those formative years.
In many ways the Institute was ahead of its time and was undoubtedly the most comprehensive course to prepare health leaders for the challenges of the day. It spurred my interest to pursue further academic work in this field and led me to take up a lecturing role on the Health Management degree course at AIT for several years.
Being a member of HMI has afforded me invaluable opportunities to develop links with colleagues working in similar fields both in Ireland and overseas. I would go on to have the honour to represent the HMI on the Mental Health subcommittee of EAHM for a number of years, and to present at European conferences on Ireland's mental health services and legislation. We also hosted the group here on a number of occasions to meet with our practitioners and see our services first hand.
Over the years HMI has consistently responded to the changing health environment in Ireland. Through partnership, it has developed a range of accredited health management courses, often bespoke, to effectively meet specific agencies' needs and facilitate member participation and networking through its strong regional structure.
HMI is as relevant to health service management and development now as it was when the founders of the Institute set about setting up a professional representative organisation for health service managers some 75 years ago.
Adrian Ahern,
Director of Nursing/Person in Charge, Leopardstown Park Hospital, Dublin.
Member HMI Council
Former HMI representative on EAHM Mental Health subcommittee.