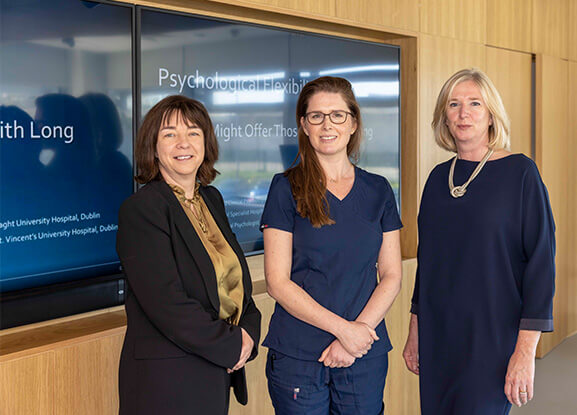 Tallaght University Hospital marked World Innovation Day with the launch of a new virtual resource for patients living with Long Covid. The new self-help video contains guidance from leading psychologists on how patients can cultivate psychological flexibility to support them in living meaningfully, even in the presence of ongoing symptoms. The concept of Psychological Flexibility is drawn from a therapeutic approach – Acceptance and Commitment Therapy (ACT) – that has proven benefits for those living with a range of different physical and mental health conditions. Funding for this resource was provided by the Adelaide Health Foundation's innovation fund.
Some of the most commonly reported symptoms of Long Covid include significant and disabling fatigue, cognitive dysfunction or 'brain fog', shortness of breath and pain. Many people living with this condition also experience anxiety and low mood. Those living with Long Covid can encounter significant difficulties resuming their normal day-to-day responsibilities or returning to work. As such, the impact of Long Covid can be, and very often is, extremely distressing for those living with it and for those supporting them.
In this resource, Dr. Melanie Ryberg, Principal Specialist Clinical Psychologist at TUH, Dr. Ray Owen, a Consultant Clinical Psychologist & Health Psychologist from the UK and Dr. Susan O'Flanagan, Principal Specialist Clinical Psychologist, come together to talk about Psychological Flexibility and what it might offer those living with Long Covid. Dr. Ryberg and Dr. O'Flanagan have both worked as part of dedicated services supporting patients with Long Covid over the past 2-3 years, while Dr. Owen has years of experience bringing this therapeutic approach to people living with other physical health conditions.
This new self-help resource, "Psychological Flexibility: What it Might Offer Those Living with Long Covid" offers evidence-based guidance to the Long Covid community in Ireland, with reach around the world.
Dr. Ryberg says, "Psychology has much to offer those living with this new multi-system and poorly understood physiological condition, not as a treatment to cure but rather as a tool to manage. 'Long Haulers' are frequently faced with the enormous and daunting task of adjusting to a changed body and mind, to a new and highly uncertain reality. It is essential that we do everything we can to provide them with the right kind of support to live as well as possible, and continue to do so until such time as it is no longer needed. Our hope is that this resource may be an important help."
Welcoming the launch of this project, Dr. Natalie Cole Head of Innovate Health at TUH said, "With so many people looking for ways to manage their symptoms or families and friends looking to support patients with Long Covid, this very accessible video makes the core concepts of ACT readily available, offering support during the period people may be waiting to see a Psychologist. I am thrilled it has come to fruition, as a great example of a new solution for an unmet need developed by our staff
This project was funded by the Adelaide Health Foundation Innovation Fund. Their CEO, Niamh Gavin said, "I am delighted this resource will be available to anyone via the TUH YouTube channel. It will be a standalone self-help intervention for patients, who will be able to access it in their own time, and from the comfort of their own home. Congratulations to all involved in this valuable and timely production."
You can watch the film by clicking this link – https://bit.ly/3Li4f7Q