"How come every other organ in your body can get sick and you get sympathy, except the brain?" Ruby Wax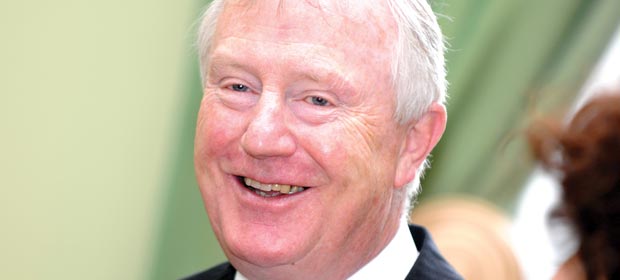 Versions of that question are posed regularly and tend to attract simplistic, stock answers of the stigma or I have no idea variety, writes Denis Doherty.
The fact that psychiatry has, for many years now, been a medical specialty grounded in science, has not yet enabled it to gain the understanding and respect that other medical specialties have gained without having to demonstrate an evidence base any greater than psychiatry can match.
The incidence of mental illness globally is not well understood, but figures of one in four to one in seven are commonly used. At one time, the number of Irish people occupying mental hospital beds would suggest we had an exceptionally high incidence of mental illness, but the high number was more likely attributable to the high number of residential care places we provided than to a high incidence of the disease.
There isn't any evidence that the incidence of mental illness has declined while the service model has been reformed over the past thirty years, but there is no denying the fact that the mental health services budget has declined significantly, as a percentage of the overall health budget, during that same period.
A consequence of the downsizing and closure of mental hospitals is that included in the 10,000 homeless people are some who in the past would have had a place in a mental hospital. Perhaps, understandably, our focus on the scandal of the number of families who are homeless diverts attention from those who are homeless, single, living with mental illness and addictions and less likely to enjoy public support for what ought to be their entitlement to have their health and accommodation needs met.
Our mental health services are not attractive places in which to work and they are certainly not fit for the purpose of meeting the mental health needs of those who need them most. They regularly attract avoidable negative press.
The mental health services budget has declined significantly, as a percentage of the overall health budget.
The inspection reports of our Mental Health Commission of residential units providing mental health services provide somber reading. A worrying feature of the reports is the number of standards that are not being complied with and an even more worrying feature is the extent of serial non-compliance. This raises questions about the ability or the willingness of service providers to meet the standards they are required to meet and/or the willingness of the funders of the services to meet the standards set by the services regulator.
A very recent report of the Inspector of Mental Health Services attracted surprisingly little attention. There is well-researched international evidence that a person with a mental illness will typically die between 15 and 20 years earlier than someone without and that mentally ill people continue to suffer unnecessarily with undiagnosed or poorly managed conditions.
In Ireland in 2018, the Inspector found that there was disregard for international best practice guidelines for monitoring the physical health of patients in mental health units and those on antipsychotic medications. During 2017, the Inspectorate found that compliance with the regulation dealing with the general health of patients had decreased from 75% to 73%. The implications of this finding and the disregard for international best practice guidelines for the general health of the patients concerned are considerable.
Our mental health services are calling out for a root and branch review based on a human rights approach.
Earlier this year, the District Court convicted the HSE for failures at the Department of Psychiatry at St. Luke's Hospital, Kilkenny . The judge in the case described the facility, as "contrary to everything a hospital should stand for." It is telling that such a damning judgment has not resulted in calls to action by our political system or the media.
It is accepted that the promotion of mental health is vitally important and can justify investment in it. In Ireland, that function is fragmented, poorly focused and often provided by well-intentioned but poorly resourced and unregulated voluntary organisations. Health promotion ought to be consistent, evidence based, sharply focused and sustained.
What passes for mental health services in Ireland are not fit for purpose. Having evolved from the custodial model dating from Victorian times they have failed to evolve into a service that forms an integral, essential part of a modern health service. The lack of suitable facilities and services for emergency mental heath care is an enduring issue. The needs of young people are often not met or are catered for inappropriately.
The Mental Health Commission has recently launched an enlightened strategy that has the potential to be a catalyst for significant improvements but it is constrained by the remit of the Commission.
Our mental health services are calling out for a root and branch review based on a human rights approach, well described in the Commission's strategy, and on full integration in our heath services. The Commission attributes the cause of the lower life expectancy of patients in mental health units, referred to above, to the separation of our mental health services from our physical health services. The fact that mental health units, in general hospitals, are regulated by the Mental Health Commission, while all other services in the same hospitals are regulated by HIQA speaks volumes for the still prevailing division between mental health services and all other health services.
It is generally accepted that our cancer services have benefited greatly from the plan that was developed, resourced and implemented for the rationalisation of that service. Our mental health services would surely benefit from a broadly similar approach to planning how best to meet the mental health needs of our people. That will necessitate an up to date assessment of need; how that need can best be met having regard to international best practice; what resources will be required to deliver the service and, of particular importance, a manpower plan designed to attract and retain psychiatrists and other mental health professionals in the numbers required.
US Congressman Patrick J Kennedy, when he received a bipolar disorder diagnosis, made an eloquent appeal for what can be achieved by stating:
"We need our families and friends to understand that the 100 million Americans suffering with mental illness are not lost souls or lost causes. We're fully capable of getting better, being happy, and building rewarding relationships"