The HSE has presented twelve employees with outstanding awards for their work in various parts of the health service.
The awards were presented by the then interim HSE Director General, Mr. John Connaghan at a function in Farmleigh.
Dr Patricia Sheehan, Consultant in Palliative Medicine at Kerry General Hospital has worked for 17 years in palliative medicine, during which she has developed a fully integrated palliative care service.
The citation read – "Dr Sheahan's priority is always ensuring the patient comes first. She is described as a visionary, a pioneer, whose resilience and indomitable driving force has helped her achieve a fully integrated palliative care service in Kerry.
The citation read "IT Officer IT and techy Extraordinaire!!! Amos is saintly, godly, saves documents, saves computers, makes emails work!!!
When a computer fails, an email is lost or something unusual happening in the world of IT…everybody says "Phone Amos, call Amos, he will fix it".
"Our days are less stressful because Amos makes our computers work". We want Amos cloned! Every division needs an Amos. Amos's attitude and willingness to accommodate the demands of a busy service make him a favourite colleague and a deserving winner of this recognition Award.
Patricia Lynch (Trish), Admissions Clerk at St James's Hospital, Dublin.
The citation read – "One of many examples of kindness to share. Trish deals directly with Dr Eadie's surgery.…. One patient advised, 'She is polite, kind and helpful. She is an example of what we would like everyone in the health service to be."
Grainne Kerr, Physiotherapist, St James's Hospital, Dublin.
The citation read, "Her amazing work and effort in promoting a culture change in a busy acute hospital has been inspirational to all of her colleagues. Better patient flow as a result of her work has positively impacted on health business processes."
Ann Marie Cox, School Vaccination Nurse Roscommon.
The citation read – "Marie is known to have an encyclopaedic knowledge of vaccination. Loves vaccinating everybody in the whole county of Roscommon."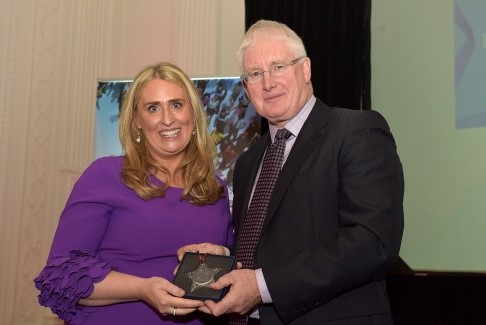 Orla Flanagan, Consultant Community Pediatrician, Galway.
The citation read, "Orla provides exceptional medical care to over 1,000 children with complex medical and neurodevelopmental needs in Galway," through her role as Consultant Community Paediatrician with the Brothers of Charity. She is a female role model for all employees, maintaining a full time consultant role and balancing family commitments with her seven children.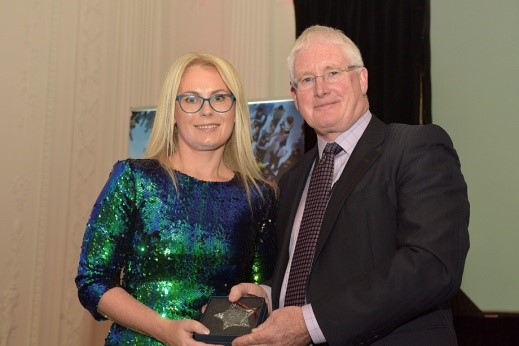 Niamh Walsh, Clinical Nurse Manager, Residential Care Donegal.
The citation read, "Niamh introduced a screening programme for bone health to her unit which will now be rolled out to all ID services in Donegal. Niamh is so passionate about the population she serves and has been an integral part of the development of the national frailty education programme. She is now undertaking her PhD and is the first person to do so in a cross border programme with the University Ulster.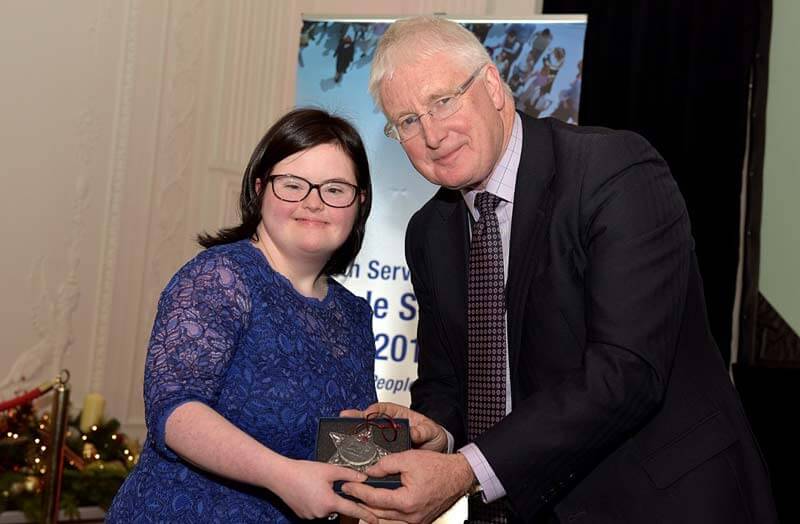 Anna Fenton, HR Intern, Office of National Director HR.
The citation read, "Anna is an amazing colleague, always has a smile.
Brings everybody joy. Delivers on all of her duties in a most professional and efficient manner.
Brian O'Reilly – Lead Advanced Paramedic
The citation read, "Brian is a star and most popular colleague. He has received several nominations – very dedicated staff member, loves his job. He is the Master in the National Ambulance Pipes and Drums Band and loves to play Raglan Road.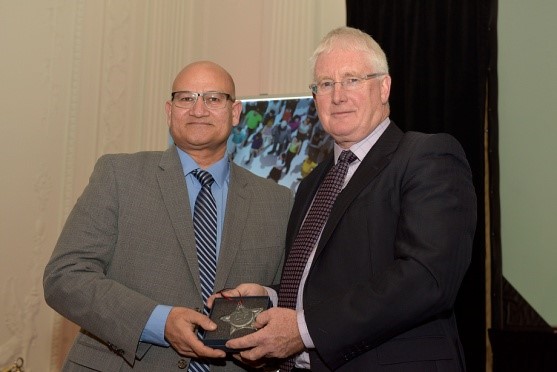 Dr Ashraf Butt, Consultant in Emergency Medicine, Cavan General Hospital.
The citation read, "Helping patients every day and doing amazing work always going above and beyond. One in a million, nominated by his colleagues.
Hilary Dolan, HR Specialist, National HR Division
The citation read, "Hilary loves her job in HR, always has a smile, is eager to help and find solutions. She is our HR rising star and a great colleague.
A special posthumous award was presented to the late Tony Leahy, who worked as a General Manager in the HSE's Mental Health Service who died on November 15, 2018.
The citation described him as a "Mental Health Service Reformer."
Yvonne O'Neill, Head of Performance, Contracting and Improvement in Community Operations, HSE, said Tony had been an outstanding colleague.
"During 17 years with the organisation, he played an important leadership role in realising many of the innovations in mental health change and reform which took place during that time.
"He was one of the first to invite people with lived experience of mental health difficulties and their family members/supporters to sit at the national table with those who provided the services.
"He understood that change could not happen until we were inclusive of all voices, and made it part of how we plan our services. He listened intently to everyone's views, heard all suggestions with empathy and more importantly, Tony championed the Recovery approach.
"Tony headed up a team of Service Improvement Leads whose role is to support and enable mental health teams to deliver effective strategic change.
"He was also chair of the Mental Health Legislation Group, which oversaw the full implementation of The Mental Health Act, 2001 which has been described as the most significant legislative change for mental health services in Ireland for over 60 years.
"Tony always demonstrated integrity and generosity of spirit and he was always mindful to acknowledge, applaud and celebrate the contributions of others particularly colleagues and service users who co-produced and developed different pieces of work and programmes with him.
"He worked tirelessly to support the building of a modern mental health service which saw the establishment of the office for Mental Health Engagement, the inclusion of Peer Support Workers working to support recovery on the Mental Health Teams and many more service improvements.
"His work culminated in the co-production of the National Framework for Recovery in Mental Health 2018-2020: which is his ultimate legacy to ensure a consistent evidenced based approach to embedding recovery oriented practice in services.
"He is very much missed by his friends and colleagues."
His award was presented to his wife Kay, his daughter Katie and his sister Farn.