Ms. Anne McNeely Head of Organisational Development, writes about Beaumont Hospital's Launch of its Internal Coaching Programme.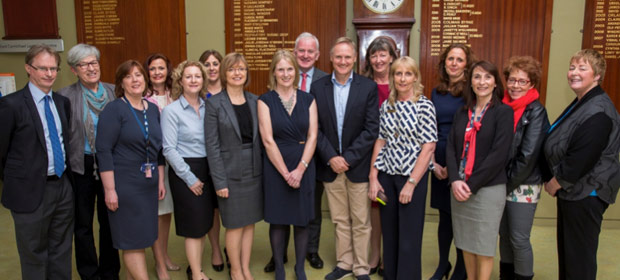 Working with a coach has many applications in sport, in life, and in the workplace.
When applied in different contexts the aims and objectives are diverse and manyfold. However, mostly there is an underlying purpose to better understand human behaviours and to retrain/change aspects in order to improve performance of individuals and/or teams. In recent times the benefits of coaching as an organisational/staff development intervention have become clearer.
Where staff are valued and recognised as the most important asset, coaching assists with transferring learning, applying new skills and competencies and adapting to new challenges and demands. The benefits to individuals include improved effectiveness, enhanced relationships, better job satisfaction and increased overall capacity and positivity. There are collective benefits to organisations in respect of productivity, retention, succession, resilience and ultimately improved outcomes for service users.
Beaumont Hospital launched an internal coaching panel on the May 21 last. We were honoured to have Joe Schmidt, Ireland rugby coach as a keynote speaker at this event, supported by Cathriona Hallahan, Chief Executive of Microsoft Ireland and Viv McDade, Life and Business Coach, Coaching Association of Ireland. Ten staff from Beaumont have successfully completed coaching qualifications and are offering their services to support and guide other staff in Beaumont. This internal coaching panel will grow and expand as other staff take up opportunities to become qualified coaches.
In front of a large audience made up Beaumont staff and a diverse group of external partners from industry, education and ongoing work relationships, Cathriona, Viv and Joe shared honest stories of their careers, highlighting things that both helped and hindered, all of which contribute to their ongoing journey and development.
Coaching at Beaumont is designed to support and empower employees to act with the latitude necessary when dealing with complex, non-linear processes and dynamics.
We have acknowledged that supporting and enabling staff is not just "a nice to have," it's a critical component of building an adaptable and empowered workforce which strives to provide the best possible services to those who depend on our care. Management and staff at all levels are dealing with very immediate and complex challenges and we also have to keep a focus on the "bigger picture." It is clear that the day to day experience of patients is impacted by how employees are valued and treated in the workplace. The UK Mid-Staffordshire experience refers specifically to this correlation.
True Latitude
As part of planning the launch the Organisational Development Department engaged with staff in receipt of coaching to get a sense of how they perceived their coaching experience and what it meant to them. Although coaching is an individual relationship there were many common themes "it's a space to reflect; it's a place to be really listened to; it's where I get help to anticipate and plan; it's where I get encouragement and guidance; I trust it and feel valued to have the opportunity to work with an experienced coach who is passionate about my performance and ongoing development." In essence, coaching at Beaumont is designed to support and empower employees to act with the latitude necessary when dealing with complex, non-linear processes and dynamics.
Finally, this launch was also an occasion to acknowledge all the informal and often invisible supports that exist in the hospital. Staff support each other as colleagues, confidants, trusted friends, mentors, and much valuable learning occurs in the day to day interactions with patients and their families.
Beaumont has worked with a pool of external coaches for a number of years and augmenting this with qualified internal coaches increases the capacity for more staff to experience one-to-one coaching. Full details of the coaching framework for Beaumont staff can be accessed by emailing coaching@beaumont.ie.