Leading healthcare speakers from Ireland and abroad will discuss and debate the future of the Irish healthcare service and the way forward for the country's healthcare management at this year's HMI Annual Conference.
The day long Conference "New Frontiers" takes place at the Gresham Hotel, Dublin on Monday, October 7.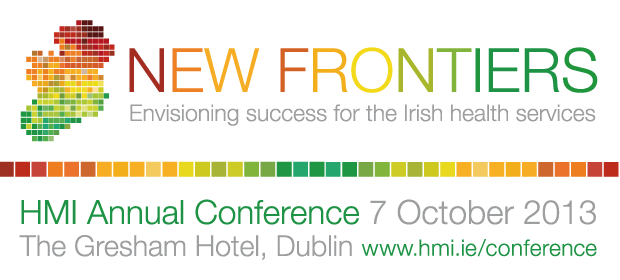 Said HMI President, Mr. Derek Greene: "The conference has been designed to enable senior managers and policy makers from all sectors of the Irish health services to engage in an informed discussion on a successful future for Irish healthcare management. It will be of special interest to chief executives, clinical directors, heads of function, directors of nursing, heads of services, other services managers and policy makers.  The conference is recognised for six CPD points."
The HMI President, who is Chief Executive, of the  National Rehabilitation Hospital, in Dun Laoghaire, will formally open the  Conference and provide an overview of the key challenges currently shaping the healthcare environment in Ireland, which will be addressed by the speakers and delegates.
Dame Donna Kinnair. Clinical Director, Emergency Medicine, BHRUT Hospital, UK,  will discuss  a new model of services.  She will distinguish between the theory and the practical reality of recent changes in the NHS, provide critical insights into the management of relationships between the commissioners of services and those managers responsible for service delivery and  reflect on how to achieve services that are safe, efficient and cost effective for users.
Mr. Tom Byrne, Chief Financial Officer, Health Service Executive, will address the financial challenges facing the health services in Ireland during these difficult times. He will outline the approach he will be taking in this new role within the HSE to ensure resources are directed to the areas of greatest need
The Minister for Health, Dr. James Reilly, T.D., will provide an overview of the national context for reform of the health services and the government's priorities. He will outline his expectations for managers in delivering those changes necessary to implement the new structures and key initiatives, relating to the funding and delivery of services.
As part of the Conference, the HMI  will launch its Leadership Awards, programme which will recognise significant achievements by individuals and teams nominated by members of the Health Management Institute.
Part of the Conference will look at healthcare leadership, Said Mr. Greene: "This session will examine what managers can learn from others about their leadership role in times of constraint. It will also explore the value placed on strengthening managers' competencies in order to translate theory and vision into practice with tangible results for healthcare delivery
Mr. Tony O'Brien, Director General, Health Service Executive will look at the challenges for the HSE over the coming years to develop leadership practices and processes in parallel with the development of management planning and control systems. He will address how new structures will provide an opportunity for change only if there is a pipe line or environment in which competent and committed managers are willing and enabled to take advantage of this evolution.
Mr. Bill Maher, Group Chief Executive, West/North West Hospital Group will discuss how the establishment  of the West/North West Hospital Group provides early insights into how new structures provide opportunities for managers to demonstrate critical leadership competencies including enrolling people around a shared vision and values. He will discuss how the same structures facilitate the development of complementary management competencies associated with high performance.
Ms. Shirley Cramer, CBE, Chief Executive, Institute of Healthcare Management and the Royal Society for Public Health will speak on Leadership and Culture. She will discuss the  new context for Health and Social Care leaders in England following structural changes and the impact of the Francis Report. She believes this creates opportunities for leaders to change organisational culture and improve services for patients
A session on Breaking the Mould will be chaired by Ms. Geraldine Regan,  HMI Vice-President and , Deputy Chief Executive/ Director of Nursing, Our Lady's Children's Hospital, Crumlin.  This session will look at how  the structural changes in the health service are designed to create an environment in which change is possible. Innovative thinking and entrepreneurial spirit need to be nurtured and developed. During the session it will be argued that change is possible only through integrated working and synergies between different services
Prof. Mark Ferguson, Director General, Science Foundation Ireland will speak on innovation and how doing things differently will require not only continuous improvement but occasional quantum leaps in processes. His experience as a supporter of innovative and entrepreneurial endeavour makes him uniquely placed to discuss the innovation process and the conditions for success associated with major change.
Ms. Catherine Whelan, Chief Executive, Independent Hospitals Association of Ireland will look at  "Alternative Models." As Chief Executive of an organisation whose members make up almost 30 per cent of the acute hospitals in the country, she is ideally positioned to provide an alternative view on the development and delivery of the health services. She will discuss the vital contribution which the private sector makes to the delivery of healthcare services in Ireland.
This will be followed by a panel discussion: "Working Together for Success."  In this discussion, which will be moderated by Dr. Deirdre Madden, Senior Lecturer, Faculty of Law, University College Cork, delegates will hear the key priorities for a number of HSE National Directors for the delivery of services within their directorate. They will discuss how to work together to develop synergies to provide an efficient and seamless service.
Panel Speakers include, Dr. Áine Carroll, National Director, Clinical Strategy & Programmes, HSE, Mr. John Hennessy, National Director, Primary Care, HSE, Mr. Ian Carter, National Director, Acute Hospitals, HSE and Mr. Pat Healy, National Director, Social Care, HSE.
The main conference sponsors are GSK and Cornmarket.