In a very significant address, Dr. Ambrose McLoughlin, the Secretary General of the Department of Health said he wanted to assure the HMI and health managers of the full support of the Department for the professional development of managers, when he addressed the HMI National Conference. Maureen Browne reports. 
He said that since the Office for Health Management disappeared in 2004 (and he thought that had been an error) there had not been sufficient resources for the professional development of managers.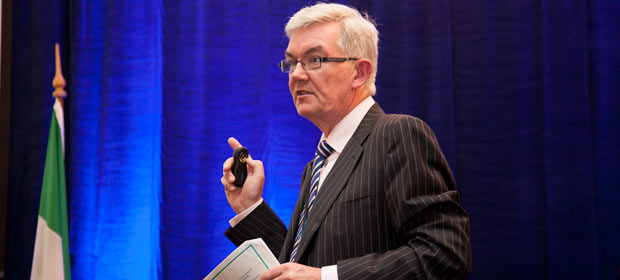 "The competence of managers is as important as the competence of clinicians. The development and maintenance of managers' competence and the development of your capabilities is something about which, as Secretary General, I feel very strongly.
"I think the HMI has a very significant role to play in this and I will be supporting the HMI.
"Equally, we will be supporting clinical managers in their development programme and people at the frontline, whether local managers or RDOs,  I know the value you bring to the system and I want you to understand you are valued by the Department of Health and we value the relationship with you.
"It is easy for people to take pot shots at the public service, but we serve the public and each day nearly 100,000 people go out and serve. It is important that we understand that while we have problems in the health service, people also have good experiences and things are improving.
"We accept that in the health system, we have entered a new economic paradigm, but we want to take the journey of reform on the basis of consultation and full collaboration."
Dr. McLoughlin said that there were huge challenges before us and in the coming weeks, the Government was expected to publish a detailed document, outlining the pathway to the future. There would be a formal structured consultation process on the document provisions.
We will be supporting clinical managers in their development programme and people at the frontline, whether local managers or RDOs
"There is a clear need for reform – the challenges are of a scale that raise questions about sustainability.  We have significantly reducing budgets, high waiting lists and inequitable access to care, lack of integration, capacity deficits, and ageing and changing population and a growth in the incidence of chronic illness," he said.
"We need to get more value and keep quality on the agenda. We want improved health and well being, faster and more equitable access to hospital care, free access to GP carte, better management of chronic illness, more people treated in their homes and improved quality and safety."
He said that delivering the reform programme would involve 79 actions with responsibility for delivery identified and time bound.  There would be a structured staged approach to implementation, robust governance and management arrangements, a costed implementation plan, including risk management, information ICT and HR and engagement with stakeholders.
Dr. McLoughlin said that a new Patient Safety Agency would be established on an administrative basis.
HIQA would start monitoring Standards for Safer Better Healthcare, national outcomes report on quality indicators would be published, a risk based approach to the provision of indemnity to services and professionals would be developed and we would begin a licensing system, which would be initially focussed on hospitals and specialist service providers.
The four pillars of reform would be health and wellbeing, service reform, structural reform and financial reform. Key actions would be to publish a Health & Wellbeing Strategy, establish a Health and Wellbeing function and develop a Health and Wellbeing Resource Plan
The Secretary General said we could not deliver the quality of care required at a price the country could afford through the current hospital centric model of care.
It is easy for people to take pot shots at the public service, but we serve the public and each day nearly 100,000 people go out and serve
A new integrated model of care was required, which treated patients at the lowest level of complexity that was safe, timely, efficient and as close to home as possible,
Key actions were to publish a Strategy for Integrated Care to include proposals for reforming the payment and delivery systems, ( in 2013) to legislate to extend GP care without fees to all on a phased basis (between 2012 and 2015) to introduce  a new model of care delivery in primary care (2012 – 2015) and to establish a new Primary Care Fund.
In acute hospitals, there would be more responsible and equitable access to vital hospital services for all patients with targets announced by the Minister for ED, in-patient, daycase, diagnostics and outpatients.
Administrative Hospital Groups would be established early next year as a first step, leading to the introduction of independent hospital trusts for all hospitals by December 2015.
In social and continuing care there would be four key characteristics – purchaser/provider split, standardised care assessment framework, individualised budgeting and quality standard and regulatory structure.
Dr. McLoughlin said there would be three transition phases for structural reform.
Transition Phase1, which was immediate, would cover legislation providing for a Directorate to be the new governing body in place of the HSE Board and the creation of new effective management structures. Each Directorate management team would have a clear budget and a mandate to deliver sustained performance improvement, underpinned by money follows the patient and the Child and Family Support Agency would be established.
Transition Phase 2 would be the preparation phase for UHI. This would involve the creation of a formal purchaser/provider split, Directorate Management Teams would be subsumed into a new commissioning body, an Integrated Care Agency would manage performance contacts with providers and a National Public Health Agency would be established.
Transition Phase 3 covered UHI to the year 2016 and beyond.  In this phase the ICA would divest some of its purchasing functions to health insurers under UHI, the ICA would manage the flow of funds between different arms of the health system and work with health insurers to support the delivery of high quality integrated care.
The key financial reform actions would be to implement the recommendations of the Ogden Review of Financial Management Systems, develop time bound plans for the implementation of money follows the patient, introduce programme based budgeting and provide funding for the Health Service through the vote of the Office of the Minister for Health.
Dr. McLoughlin said that there would be a very strategic relationship between the Department and the HSE.
"There used to be a very close relationship between the Health Boards and the Department. The HSE went into a different space with its own vote and independent governing structure. Tony O'Brien and I are trying to work together so that everyone in the system is valued, everyone who has something to offer will be actively listened to and will have a chance to contribute to facing the biggest challenge – the reform of the Irish health service.
HMI Vice President, Mr. Derek Greene assured the Secretary General that the HMI and members would provide full support to the Secretary General in his efforts to bring about badly needed change.